Son of a Gun
(2015)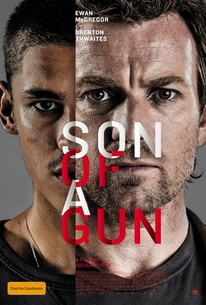 TOMATOMETER
AUDIENCE SCORE
Critic Consensus: Gritty, stylish, and smart, Son of a Gun serves up plenty of genre thrills while offering a refreshing change of pace for Ewan McGregor.
Movie Info
When JR (Brenton Thwaites) is sent to prison for a minor crime, he becomes the apprentice to Brendan Lynch (Ewan McGregor), Australia's public enemy number one. When JR helps Brendan break out, they go on the run and form a complex co-dependent relationship. JR quickly learns in the criminal world, life is like a game of chess. To gain control, you have to stay a few moves ahead of your opponent. Lose that control, and you risk becoming a pawn in their very dangerous game. (C) A24
People Who Like this movie also like
News & Interviews for Son of a Gun
Critic Reviews for Son of a Gun
Audience Reviews for Son of a Gun
Not what I would call a great movie, but it's definitely a good one, at the very least. It's not the most unique film in existence, since it did remind me of the most recent movie I saw like this, Escobar: Paradise Lost, except in Paradise, the main character falling in love with Pablo Escobar's niece was actually welcomed by the drug kingpin. When JR falls in love with his boss' eye candy, as it were, since that is the only reason she's there and to spy on JR and his intentions, then he gets into trouble because of that. And, of course, I'm not saying everything in both films are exactly alike, but they share some similarities, like JR in this film becoming increasingly more involved in criminal activities as the danger keeps ramping up as the story progresses. Like I said earlier, there's nothing about this film that's completely unique to it, it feels like an amalgamation of several different stories you've already seen. I know that might read as an insult, but it's not, since I do think that this flick is well-written and the acting is strong. Ewan McGregor is always great. Brenton Thwaites however, I don't know what to make of this guy. I mean he was good, but he was lacking in something. I don't know, he just didn't have the presence to be a leading man, particularly in this type of role. He just seems, to me, more suited to films that tend to appeal more to young adults, like The Giver, a film based on a YA novel. He's got a good look if he leaves his long hair intact. If he cuts it, it just makes him look like he's 15-year-old despite, currently, being 26. So that makes it a little difficult to buy into him as a hero in this type of setting. And I'm not saying that he was even bad, cause he was good. But I just feel that he was missing a little something when it comes to a commanding screen presence. Thankfully McGregor is there to pick up the slack as it relates to intensity and dominating every scene he's in. It's definitely an against type role for McGregor but he does really damn well at it, which doesn't surprise me considering how talented the guy is. I will say, however, that the film does lose a little steam once Brendan and JR go on the run. It is what it is, but I do admit that that held the film back, at least a bit, for me. I can't call this great, or even really good, at all, but it is a more than solid film that benefits from strong acting and a solid little story. It definitely has its flaws here and there, but, by and large, this is an enjoyable genre film. It's on Amazon Prime, so if you're subscribed to it, then you should give this a shot.
Jesse Ortega
Super Reviewer
½
Well made and nicely shot if a little ordinary, Son Of A Gun comes alive whenever the deeply charismatic Ewan McGregor or luminous Alicia Vikander take centre stage.
Daniel Parsons
Super Reviewer
Definitely one of the better films from Ewan Mcgregor of late. What initially may look like a low rate Australian heist drama turns out to be gripping and edgy and keeps you watching until the end.
Ian Walker
Super Reviewer
Son of a Gun Quotes
| | |
| --- | --- |
| Brendan Lynch: | If you want to take action then make it count. No half measures. Because unless you're fighting plaque, this is not gonna stop Dave and his cronies. Now son, I can sort this for you but then I'm gonna need your help on the outside. |
| JR: | To do what? |
| Brendan Lynch: | What do you think? I'm looking at 20 years without parole in this shithole. 25, once I sort your wee problem. |
| | |
| --- | --- |
| Brendan Lynch: | You obviously didn't hear me the first time; keep your nose out of other peoples stuff. |
Discussion Forum
Discuss Son of a Gun on our Movie forum!