Speed Scandal
(2008)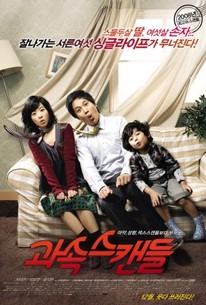 AUDIENCE SCORE
Critic Consensus: No consensus yet.
Movie Info
In this offbeat comedy from South Korea, Cha Tae-hyun stars as Nam Hyun-soo, a former teen idol turned radio talk show host, whose life turns an unusual corner when a young single mother named Jung-nam begins sending very personal stories to the radio station, with requests that Nam broadcast them. The stories pertain to her father, whom she has never before seen, and when listeners catch wind of these tales, they help turn the show into one of the most popular programs on the air. Circumstances grow darker and more sinister, however, when Jung-nam turns up at the station and Nam's house, with her 7-year-old son Gi-dong in tow - insisting that Nam Hyun-soo himself is her father. The claims ultimately threaten to damage Nam's public image and end his career.~ Nathan Southern, All Movie Guide
Critic Reviews for Speed Scandal
There are no critic reviews yet for Speed Scandal. Keep checking Rotten Tomatoes for updates!
Audience Reviews for Speed Scandal
Part of me wants to say that this is pretty much like every other light and fluffy South Korean comedy I've ever seen. It certainly adheres to a specific formula and that formula works for the audience that this movie is intended for. With that said, and I have no idea why, but I thought that this was a little better than this type of film usually ends up being. At this point in the review, I have given the film three stars, but I may end up downgrading it as I get further into this. For a South Korean comedy, there's a surprising lack of melodrama, which is for the best honestly. I mean they throw in a completely unexpected kidnapping plot to give the proceedings a little more drama, but I never thought that it fell to the hysterics that I've come to expect from these types of films. Even with the tease of a kidnapping subplot. The story, like I said, plays out pretty much exactly how you would expect. At first, Nam's bachelorhood is inconvenienced by this revelation that he actually fathered a daughter and this daughter had a little son of her own. Again, I know I'm saying this a lot but it bears repeating, but it plays out almost exactly like you would expect. The second part of the film is when we see Nam connecting with his daughter and grandson, while still denying their existence, actually saying that they're his niece and nephew. There's the requisite heavy drama where Nam pushes his daughter away for X or Y reason, they make up and later he's put in a situation where he has to either choose his career or his family. Fairly basic stuff, honestly, but I thought the story was kinda cute. It's not that it's great or actually delves too deeply into these characters, but it worked for what they were going for. I thought the stuff with Nam and his grandson worked best, though the stuff with his daughter is also fairly solid. It works because there's a real chemistry between the leads, who are all likable. They're part of why the movie works better than this would normally play out. Like I mentioned earlier, though, the tease of a kidnapping plot is completely out of left field and it does lead to some of the more dramatic moments of the film, but it's never manipulative or melodramatically terrible. I honestly don't have much to say about this movie, it's a perfectly solid film. I may be over-rating this movie, but I thought it was a perfectly enjoyable film that will appeal to a casual crowd.
Jesse Ortega
Super Reviewer
Speed Scandal Quotes
There are no approved quotes yet for this movie.