Spies Like Us
(1985)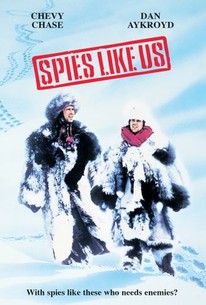 Movie Info
Director John Landis helmed this Cold War farce starring Dan Aykroyd and Chevy Chase as Austin Millbarge and Emmett Fitz-Hume -- two loser misfits who dwell in the lower ranks of the Central Intelligence Agency. Convinced despite much evidence to the contrary that they're prime secret agent material, both men keep taking service exams in an effort to win promotion. Caught cheating on their latest round of tests, Austin and Emmett expect to be fired but are instead made full field agents and ushered into intense training. Little do they know that it's all a ruse and that they're about to be dumped in Pakistan to throw Russian spies off the scent of two real agents with an important clandestine assignment. A spoof of the "road" pictures popularized by Bing Crosby and Bob Hope, the film features a cameo by the latter as his golf-playing self.
News & Interviews for Spies Like Us
Critic Reviews for Spies Like Us
Audience Reviews for Spies Like Us
½
Taking inspiration from the Hope & Crosby "Road to" movies (which explains Hope's cameo...his final film appearance), this is the story of two inexperienced desk jockeys who are suckered in to going undercover on a mission in Soviet Territory, unaware that they are really just expendable, and are being used as decoys. What ensues is a madcap romp through all sorts of exotic places as the two decoys go through one nutty incident after another. Given the concept and the people involved (just look at all those cameos!) I had some very high hopes for this being good. I'm rather upset to report that the film comes up short and isn't as good as it should have been. Oh yeah, I mean, the cast is good, but a lot of the cameos (a John Landis trademark) just feel pointless and silly. However, it is fun trying to spot them all, including Sam Raimi, Joel Coen, Martin Brest, Terry Gilliam, Ray Harryhausen, and even blues legend B.B. King. Still though, less focus on cameos, and more on a stronger story. I did like seeing Chase and Aykroyd together again, and Bernie Casey's supporting role made me happy, too. The film is funny, but it's not nearly as funny as it thinks it is. I'm okay with silly humor, but many of the gags go on for too long and after a while you realize that there's really no plot or story (as if there was supposed to be), and you get the feeling that Landis was just banking on the jokes and the actors to carry things along. I wasn't bored though, and I did laugh, but since this is a Landis film, I was expecting something sharp, witty, and brilliant. I don't regret watching this, but I do wish it would have been better .See it if you want, but don't expect it to be great (like it should have been).
Chris Weber
Super Reviewer
½
Funny in some part, until the picture show that the script is not so good or funniest.
Lucas Martins
Super Reviewer
½
An outrageous, hilarious comedy with a great cast and director. I love this movie.
Spies Like Us Quotes
| | |
| --- | --- |
| Rob Hodges: | Every minute you don't tell us why you are here, I cut off a finger. |
| Emmett Fitz-Hume: | Mine or yours? |
| Rob Hodges: | Yours. |
| Emmett Fitz-Hume: | Damn! |
Discussion Forum
Discuss Spies Like Us on our Movie forum!