Springtime in a Small Town (Xiao cheng zhi chun)
(2002)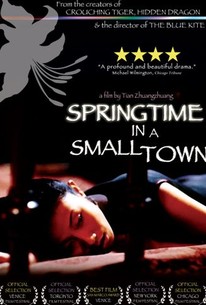 TOMATOMETER
AUDIENCE SCORE
Critic Consensus: Director Tian Zhuangzhuang's remake of the 1948 Chinese classic may be too measured in pace for some audiences, but it's a visually sumptuous, well-acted piece.
Springtime in a Small Town (Xiao cheng zhi chun) Photos
Movie Info
For his first feature since 1993's acclaimed The Blue Kite, director Tian Zhuangzhuang chose to remake a classic 1948 Chinese film, Springtime in a Small Town. The film takes place in 1946. Yuwen (Hu Jingfan) lives on a country estate with her sickly husband, Dai Liyan (Wu Jun), and his rambunctious teenage sister, Dai Xiu (Lu Sisi). They are waited on by the family's longtime servant, Lao Huang (Ye Xiaokeng). Yuwen cares for her husband and she's kind to him, but she doesn't seem to love him. Frustrated with his inability to give her a child due to his constant illness, she sleeps in a separate room. For his part, Liyan feels guilt and shame over his inability to properly care for his wife. Their lives are disrupted by the arrival of Liyan's childhood friend, Zhang Zhichen (Xin Bajqing), a well-traveled doctor. Liyan soon learns that his old friend was once his wife's neighbor, but he doesn't know that they were also in love, and had at one time planned to marry. Tensions swirl about the household as Yuwen and Zhichen try to reconcile their lingering feelings for each other with their responsibility to Liyan. Springtime in a Small Town won the San Marco Prize at the 2002 Venice Film Festival, and was selected for the 2002 New York Film Festival.
Critic Reviews for Springtime in a Small Town (Xiao cheng zhi chun)
Audience Reviews for Springtime in a Small Town (Xiao cheng zhi chun)
½
Springtime in a small town was a slow movie.The set was beautiful and I was really waiting for something special to increase my interest in this movie but it never happened. The movie was boring, it only had 5 people in the movie and it was almost two hours long which was totally unnecessary. Most of dialogues were slow and meaningless. The movie tone was also dark,which felt so depressing to watch. I know this was a remake of a 1948 version, which I heard the original version was way better.My problem with Springtime was despite the beauty, there was no depth to the story.
Daisy Maduro
Super Reviewer
½
A quiet, slow paced film. Rich character development, a subtle love triangle, and a taste of Chinese culture from the period after the war and before the Revolution, the film still has the power to draw one in. The story revolves around a man and his wife, his sister, their servant, and the friend who comes to visit. The scenery is austere, the camera work is engaging, the acting is passable. One wishes he understood more of the customs of the times, but the overall sense of the film is genuine. No explosions and no fireworks, just a view of another time and place, this film is not for audiences who crave the adrenalin rush. Just add thought and rumination for a pleasurable experience. Three and a half stars. One note: this viewer found it humorous to hear a Chinese schoolgirl singing a native folk song to the tune of a Strauss waltz! Who knew?
Mark Abell
Super Reviewer
½
What an awkward, clumsy mess of a film with so much potential to be as quietly beautiful as In the Mood For Love. I first heard about this movie when reading about ITMFL, hearing that the original 1948 version had inspired the themes in my moody favourite film. Had heard good things about Tian's Blue Kite, and the director of photography is the same guy who shot most of ITMFL, so I was really excited to see this movie. It starts off promisingly too, with a gorgeously forlorn few shots of unhappy housewife Yuwen wandering in a foggy country landscape and then to her sad little home with her sickly husband Liyan whom she doesn't love. There are a few scenes I think are quite beautiful, notably an intriguing little one where Yuwen, Liyan, Liyan's little sister and their new/old friend Zhichen are rowing a boat while Little Sister sings a Chinese version of the Blue Danube, an oddly happy song about blossoms in spring considering the mistily sorrowful landscape surrounding the group. Liyan's journey from moody and frustrated, to increasingly happy, to self-sacrificing and depressed, is also quite well-done and subtle, and he is perhaps one of the most sympathetic characters in the movie. But oh, where shall I begin with the faults in this? My biggest beef is with Hu Jingfan's mannered and unnatural Yuwen, whom I feel would have done best if she had not spoken or moved very much. While I get that it's possible she simply found it difficult to express herself, resulting in that stiff, one-expression demeanour, but even in her scenes with childhood sweetheart Zhichen and when she starts to open up a little to him, she seems oddly acted, like those characters in TVB melodramas. As well, the direction of her scenes with Zhichen is terrible, with the two of them moving in a manner reminiscent of soap operas (she faces the camera, speaking to him over her shoulder, he comes up behind her in apparent anguish, etc). The crying's pretty bad too, and doesn't help to shake the feeling of bad TVB melodrama. I suppose she's slightly more sympathetic in her scenes with Little Sister, allowing herself little smiles and loosening up a bit, but I still found her awkward rather than simply repressed. My next problem is with the direction: for such a quiet movie, it is oddly restless, with the camera moving rather unnecessarily (I thought) rather than letting each scene breathe. The most jarring cut is the one after Yuwen wanders out onto the wall again (can't remember the exact placement in the chronology but it's the scene used in the DVD menu?); it seems like Tian couldn't just stand still and allow Yuwen to wallow in her grief a bit before going "OK, let's go!" Now, I'm not one to favour overt stillness, but even then, it seemed like the pacing of shots could have been much slower in this type of setting. The scene where Liyan discovers the attraction between Yuwen and Zhichen also sucks in terms of direction, starting off well with that subtle change of expression on his face, then becoming awfully maudlin as Liyan rises and is stuck in the middle of the frame, soap-opera-style once again, as if to draw unnecessary attention to something which didn't require it. Springtime... reminds me of Flowers of Shanghai in its somewhat theatrical setup, but where Flowers... was beautiful in its play-like manner (despite being a bit too slow for my tastes), Springtime makes one painfully aware that you're watching something artificial. The dialogue is terribly unnatural, and the blocking is that kind of awkward moving about that you associate with a small stage rather than a movie set. Lines are recited in that amateurish, pausing way that is necessary in a play to make things clear to a faraway audience, but simply seems exaggerated here. A good example is Little Sister, whose annoying perkiness is caricaturish and exactly what I'd expect and would enjoy on the stage. But this is FILM, a medium which demands subtlety in many occasions. I could go on. (POSSIBLE SPOILER ALERT) I guess I can end by saying that the ending was rather well-done, with everything going back to what it was at the beginning, except that plaintiff train whistle and Yuwen's startled reaction reminding us that there is always that hold on her heart. That whistle was a revelation to me too, because I had thought it merely to be flute music playing in the background, and then I realized that that train and call of the outside was constantly haunting Yuwen. Disappointing.
Krystle Chow
Super Reviewer
Springtime in a Small Town (Xiao cheng zhi chun) Quotes
There are no approved quotes yet for this movie.