Stalingrad
(2014)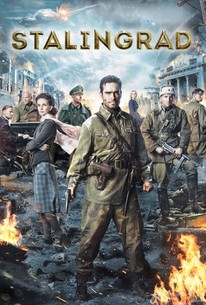 TOMATOMETER
AUDIENCE SCORE
Critic Consensus: There's no arguing with its impressive production values, but Stalingrad should have devoted more attention to the screenplay and spent less on special effects-enhanced spectacle.
Movie Info
STALINGRAD is an epic look at the battle that turned the tide of World War II. A band of determined Russian soldiers fight to hold a strategic building in their devastated city against a ruthless German army, and in the process become deeply connected to two Russian women who have been living there. Presented in IMAX 3D, the scale of the battle contrasts dramatically with the human drama of the Russian soldiers, the few remaining civilians and their invaders into Stalingrad. (c) Sony Worldwide
Rating:
R (for sequences of war violence)
Genre:
, ,
Directed By:
Written By:
In Theaters:
On DVD:
Runtime:
Studio:
News & Interviews for Stalingrad
Critic Reviews for Stalingrad
Audience Reviews for Stalingrad
½
People are way overthinking this. If this was a Russian drama about demographic oppression or some famous Russian biopic, it would be getting 5-star ratings and glowing awards-nominations. Because it's a stylized blockbuster, it's somehow "less artistic." The film looks great, it sounds amazing, and the characters are well-acted and worth rooting for. The script isn't the most well-paced, but it works for what the movie is. I thoroughly enjoyed this.
Todd Bollinger
½
Despite its good CGI and and epic feel, much of "Stalingrad" has a strange made-for-TV quality. The script is unsophisticated and dull, with very little actually happening that might measure up to the historical siege of the benighted city. Make no mistake -- this film does little to shed any light on the historic events of World War II. Moreover, the script is so full of empty Russian bravado and propaganda one wonders if Vladimir Putin had a hand in writing it. The people watching at my house actually guffawed several times during some of the more over-the-top/revisionist "dramatic" lines delivered by the actors. The actors on screen seemed almost adequate, but the voice acting on the dubbed English version is atrocious with every character sounding the same and completely devoid of any feeling. If the Nazis lobbed as many duds at Stalingrad as were lobbed by the actors in this film, I doubt there would have been a siege at all. "Enemy At The Gates" (2001) is a much better film in most every respect if you'd like to see a good Stalingrad war film.
Christian C
Super Reviewer
½
The total war film genre has been sidelined recently by more cloak-and-dagger type films (e.g. Zero Dark Thirty) that capture smaller, isolated events taking place within a larger conflict. Stalingrad is a return to the sweeping, epic grandeur of WWII classics while also introducing some modern visual effects and camera work. While the narration is clunky, the script serves to provide the characters with a sense of conscience and humanity. The film's greatest strength is undoubtedly the action sequences, featuring a unique blend of colorful touch-ups and slow-motion capturing.
malevolent1991 malevolent1991