Stargate
(1994)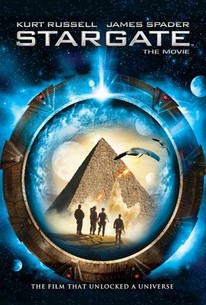 Movie Info
This lucrative, elephantine-budgeted sci-fi opus paved the way for director Roland Emmerich's mega-hit Independence Day (1996). The story commences in Giza, Egypt, circa 1928, where an archaeological expedition unearths an ancient ring with cryptic hieroglyphs. The film then moves to the present day, where Egyptologist Daniel Jackson (James Spader) is busily trying to convince a group of skeptics that the pyramids were not built by man, but by an extraterrestrial force. After the lecture, a military man approaches him and offers him a job translating the said ring; its inscriptions actually constitute a map to a massive stargate (or interstellar portal). The army sends over resident crackpot colonel Jack O'Neill (Kurt Russell) to travel through the stargate and see what's on the other side; Jackson accompanies him, and the two men turn up in a desert planet on the other side of the universe, with three moons in its sky. The world in question is ruled by Ra (Jaye Davidson), a hermaphroditic Egyptian sun god, who oppresses hordes of slave workers. Jackson and O'Neill then join forces to help the said workers revolt against their oppressor. ~ Paul Brenner, Rovi
Rating:
PG-13 (for sci-fi action violence)
Genre:
,
Directed By:
In Theaters:
On DVD:
Runtime:
Studio:
Artisan Home Entertainment
News & Interviews for Stargate
Critic Reviews for Stargate
Audience Reviews for Stargate
Stargate is the second Roland Emmerich feature, and is a flawed, but somewhat enjoyable effort from a director who is very hit and miss. Stargate is a fun, entertaining picture that is visually stunning and boasts some pretty good performances. Although far from perfect, this film isn't as bad as it seems, but it does have a few weak moments. I feel that that if the script would have been better thought out, this film really could have been a highly engaging, thrilling and memorable sci fi adventure. As it is, it's a good film that unfortunately has a few elements missing to really make it a standout feature. Nonetheless, the film doers boast good action to make up for the weak moments that are found throughout. I really liked the film, and considering it was directed by Roland Emmerich, it's a pretty good effort. There are enough effective moments to keep you interested, but like I said, you are left wanting more as the scripts limitations do show up. The story should be reworked, but overall, film buffs who enjoy mindless action films, should give this film a chance. Even with all its imperfections, Stargate is an underrated film, one that doesn't deserve the flack it has received. There are far worst films out there, and Emmerich has directed far worst movies than this. Stargate, along with Independence Day are his finest works, and display a certain element from a director that most of the time, can't seem to craft a good film. This is good fun with all its flaws, and it's not as bad as what the mainstream critics have said about. Yes, the script should have been better written, with a few revisions here and there, but there's still effective entertainment to be had here.
½
A spectacular and tremendously enjoyable sci-fi epic. An instant classic in it's own right. A wickedly entertaining and explosive action-adventure that's loaded with eye-popping special effects, great humor and non-stop thrills from start to finish. A heart-pounding and mind-blowing action-packed thrill-ride that hits alll the right notes. A full-throttle roller-coaster ride that dose not let up for an instant. James Spader and Kurt Russell are terrific. Director, Ronald Emmerich crafts one of his finest and most incredible movies ever.
½
Its really random plot is a little awkward for a sci fi movie and some of the parts but it is fairly decent for a sci fi movie
Michael Edwards
Super Reviewer
Stargate Quotes
| | |
| --- | --- |
| Lieutenant Kawalsky: | [Jackson sneezes hard] Cold? |
| Dr. Daniel Jackson: | Allergies: always happens when I travel. |
| | |
| --- | --- |
| Dr. Daniel Jackson: | [Kasuf gestures towards his village] He's inviting us to go with him. |
| Lieutenant Kawalsky: | How can you be so sure? |
| Dr. Daniel Jackson: | Because he's ... |
| Dr. Daniel Jackson: | Because he's... |
| Dr. Daniel Jackson: | [repeats gesture] inviting us to go with him. |