Stolen Kisses (Baisers Volés)
(1968)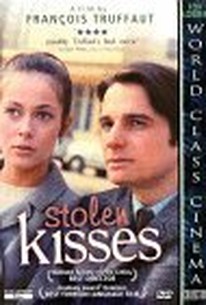 Stolen Kisses (Baisers Volés) Photos
Movie Info
The episodic romantic comedy Stolen Kisses is the third installment in François Truffaut's Antoine Doinel series, which started with The 400 Blows in 1959. In 1968, Antoine (Jean-Pierre Léaud) is discharged from the military and comes home to Paris, getting an apartment in Montmartre with an excellent view of the Sacré-Coeur. He meets up with his sweetheart, Christine Darbon (Claude Jade, making her film debut), and joins her and her parents for dinner (Daniel Ceccaldi and Claire Duhamel). With the help of Christine's father, he gets a job as a hotel clerk but quickly gets fired after he unwittingly aids a private detective (Harry Max). After running into the detective at a coffee shop, Antonie then falls into a job at the Blady Detective Agency, assisting with the investigation of a magician. He is then assigned to the case of neurotic Georges Tabard (Michel Lonsdale), and ends up working in the stock room of his shoe store. After Antoine has coffee with Tabard's beautiful and intelligent wife, Fabienne (Delphine Seyrig), she inevitably tries to seduce him. He later meets Christine in a park and proposes to her, taking the pair into the next film: Bed and Board. One of the lightest entries in the series, Stolen Kisses was ironically filmed during a turbulent political time in France. ~ Andrea LeVasseur, Rovi
News & Interviews for Stolen Kisses (Baisers Volés)
Critic Reviews for Stolen Kisses (Baisers Volés)
Audience Reviews for Stolen Kisses (Baisers Volés)
½
Francois Truffaut's third Antoine Doinel film has a happenstance feel of just dropping in to see what's new with our boy. He's freshly bounced out of the military, and is casually skipping from mediocre job to mediocre job without success. Meanwhile, he courts a past girlfriend, the stunningly photogenic Claude Jade. The light, episodic story doesn't have much of a point, and this frustrated me for awhile. But eventually, the film's romantic charm won me over. There are some surprisingly funny moments, and the gentle resolution surely influenced Woody Allen.
Eric Broome
Super Reviewer
After following Antoine Doinel as a young boy in Les quatre cents coups and his désamours in L'amour à vingt ans, in Baisers Volés we see the life and lovers of an "akward" young man. Then it comes the great Domicile Conjugal where Antoine and Christine are married and where we see a kiss scene from Baiser Volés, and L'amour en fuite, the last film of this serie. You don't need to watch these films in order. Actually, it could be interesting to begin from the end and then back to the first one, to understand Antoine's life.


Rubia Carolina
Super Reviewer
Truffaut homages Henri Langlois, Laurel and Hardy. Hitchcock and Balzac, and brings back his alter ego, Antoine Doinel. Now at the doors of adulthood, he was kicked out from the army, and struggles to find a job, first as a night porter, shoe seller, tv repairing engineer and even as a private eye for a detective agency. But don't get confused, this is a pleasant, charming comedy, where all the sorrow and rebelliousness of his childhood is gone for good, and now his only concern is to win the heart of the girl he likes. Nostalgic stroll through the beautiful Paris, in company of a magnificent auteur who always knew how to gather the sweetest moments of life into a film; Jean-Pierre Léaud's likeable absent-mindedness; Claude Jade's natural beauty; and Charles Trenet's sweetest ballad.
Pierluigi Puccini
Super Reviewer
Stolen Kisses (Baisers Volés) Quotes
There are no approved quotes yet for this movie.