Straight Outta Compton
(2015)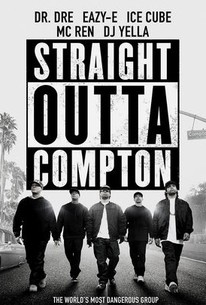 TOMATOMETER
AUDIENCE SCORE
Critic Consensus: Straight Outta Compton is a biopic that's built to last, thanks to F. Gary Gray's confident direction and engaging performances from a solid cast.
Straight Outta Compton Videos
Straight Outta Compton Photos
Movie Info
In the mid-1980s, the streets of Compton, California, were some of the most dangerous in the country. When five young men translated their experiences growing up into brutally honest music that rebelled against abusive authority, they gave an explosive voice to a silenced generation. Following the meteoric rise and fall of N.W.A., Straight Outta Compton tells the astonishing story of how these youngsters revolutionized music and pop culture forever the moment they told the world the truth about life in the hood and ignited a cultural war. -- (C) Universal Pictures
News & Interviews for Straight Outta Compton
Critic Reviews for Straight Outta Compton
Audience Reviews for Straight Outta Compton
I was a barely born during the era of NWA, but I grew up listening to Dr. Dre, Ice Cube, Snoop Dogg, and Tupac because of my brother. I was unfamiliar with Eazy-E, but my brother gave me a little background of the beef between them. It was a great film I thought and the actors portrayed them well. It took me back for sure.
½
A very well-directed, provocative and comprehensive - albeit a bit overlong - biopic that shines with exquisite camera movements and amazing performances to tell this compelling story of the three men who popularized the gangsta rap movement that came up in the 1980s.
Carlos Magalhães
Super Reviewer
Going into Straight Outta Compton I already had a general idea of the history of N.W.A. I'm not a gangsta rap fan, but I was transitioning between childhood and angry teenager during the same time as their run and I watched MTV. I remembered the riots (there were always riots back then, no matter the genre) and I remember the death of Eazy E. I knew that Ice Cube left and formed Public Enemy. This film filled in those gaps. This is your straight forward biopic and what's most striking about it is the how the themes that have played out throughout the annals of music history continued to play out. As a whole, N.W.A. was a great unit that is torn apart by the oldest reason in the record business: money. And it's not them fighting each other for it (not quite), but how yet another group of young stars is manipulated into giving up their rights because they're naïve, while the agent or promoter, or the record executive lives high on the hog. That's the typical story, but the layer that sits on top of that is the environment these guys came from and how they expressed it in their music, even to the point of having to take knocks from the police and competitors. The weight of this brave new world of gangster rap was on the shoulders of these young men. I'm kind of leery when your subject matter is the producing the film and I think there were a few tid bits that were glossed over, but overall Straight Outta Compton is a great film that details the birth of a new art form as it shows us the business as usual attitudes of the industry.
Chris Garman
Super Reviewer
Straight Outta Compton Quotes
| | |
| --- | --- |
| Eazy-E: | She kinda... preoccupied wit some real nigga dick |
| Eazy-E: | She kinda... preoccupied wit some real nigga dick. |
| | |
| --- | --- |
| Dr. Dre: | If we keep goin we can take over the goddamn world ! |
| Dr. Dre: | If we keep goin' we can take over the goddamn world! |
| | |
| --- | --- |
| Ice Cube: | speak a little truth and people lose they mind. |
| Ice Cube: | Speak a little truth and people lose they mind. |
| | |
| --- | --- |
| Ice Cube: | How you go from selling rocks in a dope house to eating dinner in the white house? |