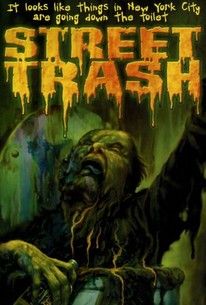 Street Trash
1987, Horror, 1h 31m
13 Reviews
2,500+ Ratings
Rate And Review
Movie Info
A case of contaminated alcohol has a debilitating effect on the vagabonds haunting the streets and junkyards of Brooklyn.
Genre: Horror

Original Language: English

Director: James M. Muro

Producer: Roy Frumkes

Writer: Roy Frumkes

Release Date (Theaters): original

Release Date (Streaming):

Runtime:
Audience Reviews for Street Trash
Shot with a shoestring budget, Street Trash offers one of the best special make up effect I've ever seen. The premise of the film itself is simple but really darkly humourous and worth a watch for some bizarre scenes.

Street Trash is one of those glorious cheesy horror comedies from the 80s, completly disjointed on it's plot but hilariously awful right until the end. The jokes are either amazing, incredibly bad, distasteful but always fun on how surprising some segments can get. The gore is pretty disgusting but always light on it's approach, never being truly disturbing, like say some Troma flicks, which Street Trash bares some comparisions. Worth a shot for fans of demented horror comedies that don't have much story going on.

In a junkyard ruled by a sadistic gang of hobos, bums must also endure a plague of rotgut that makes them melt. The less sense this movie makes, the better it gets, but the jokes about castration, gang rape and necrophilia ensure this will never rise above the level of a guilty pleasure.

Street Trash is one bizarre horror flick. Street Trash is one of the goriest, most disgusting films, but man is it fun. The plot of the film is fairly simple, a liquor store sells bottles of a drink called Viper that makes hobos melt. Thats all it is. But the strength of the film lies within its special effects and originality. I thoroughly enjoyed the film, even for its flaws, the film was still lots of fun to watch. Street Trash has one of the most simple plots to a horror/exploitation film, and the real star in this film are the gooey special effects. For me, it's what makes this film a must see. Not only that, but there's some very low brow comedy in this film that might appeal to fans of other bizarre horror comedies such as Basket Case. Street Trash is a well made film that is often overlooked because of it's obvious plot. Melting Hobos isn't exactly an interesting plot, or is it? Street Trash though a simplistic film in its execution offers a very entertaining hour and a half that is one of the most memorable, bizarre and horrifying rides that you will take. Director James Muro would later work as a steadicam operator for many big Hollywood blockbusters such as Terminator 2 and Titanic. I find it pretty funny how a film this bizarre would be made by a man who would film some big blockbusters. Street Trash is a fairly obscure title in the Horror genre, and it deserves at least one viewing. The film though eccentric is still fairly original, and evokes qualities of Peter Jackson's earliest directorial efforts.
See Details