Street Trash
(1986)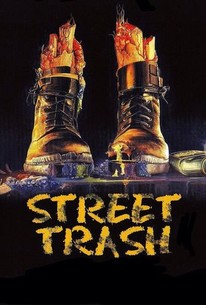 Movie Info
This shocker will most likely appeal to fans of pitch-black beyond-bad-taste comedy. Others may find it highly offensive and gory as it chronicles the fate of homeless Brooklyn winos when they get into some tainted wine and begin melting into slimy puddles of human goo. The wine, called "Tenafly Viper," is being sold by the owner of a liquor store who found it lying around in his basement and sells it to the bums for a buck. It is later revealed that the wine was deliberately spiked by the government. ~ Sandra Brennan, Rovi
Critic Reviews for Street Trash
Audience Reviews for Street Trash
½
In a junkyard ruled by a sadistic gang of hobos, bums must also endure a plague of rotgut that makes them melt. The less sense this movie makes, the better it gets, but the jokes about castration, gang rape and necrophilia ensure this will never rise above the level of a guilty pleasure.
Street Trash is one bizarre horror flick. Street Trash is one of the goriest, most disgusting films, but man is it fun. The plot of the film is fairly simple, a liquor store sells bottles of a drink called Viper that makes hobos melt. Thats all it is. But the strength of the film lies within its special effects and originality. I thoroughly enjoyed the film, even for its flaws, the film was still lots of fun to watch. Street Trash has one of the most simple plots to a horror/exploitation film, and the real star in this film are the gooey special effects. For me, it's what makes this film a must see. Not only that, but there's some very low brow comedy in this film that might appeal to fans of other bizarre horror comedies such as Basket Case. Street Trash is a well made film that is often overlooked because of it's obvious plot. Melting Hobos isn't exactly an interesting plot, or is it? Street Trash though a simplistic film in its execution offers a very entertaining hour and a half that is one of the most memorable, bizarre and horrifying rides that you will take. Director James Muro would later work as a steadicam operator for many big Hollywood blockbusters such as Terminator 2 and Titanic. I find it pretty funny how a film this bizarre would be made by a man who would film some big blockbusters. Street Trash is a fairly obscure title in the Horror genre, and it deserves at least one viewing. The film though eccentric is still fairly original, and evokes qualities of Peter Jackson's earliest directorial efforts.
½
Certainly lives up to its billing - it's a complete trash-fest! Never seen a film featuring so many low-lifes and scumbags. Of course the film has a very black humoured tone to it all as it follows the grimey existence of the hobo community of Brooklyn when a deadly toxic alcoholic drink sold from a local store starts to pick them off melting them down into a multi-coloured ooze. Funny at times and disgusting and gory in others, it's all a sleazy affair that's a good laugh but not to be taken seriously.
Street Trash Quotes
There are no approved quotes yet for this movie.