Stronger
(2017)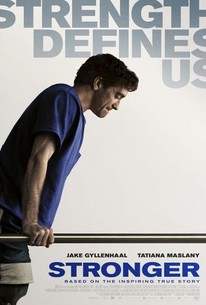 TOMATOMETER
AUDIENCE SCORE
Critic Consensus: Stronger rises on the power of its well-chosen ensemble to offer an emotionally resonant fact-based story that transcends inspirational drama clichés.
Movie Info
STRONGER is the inspirational and heroic true-life story of Jeff Bauman (Jake Gyllenhaal), the man whose iconic photo from the 2013 Boston Marathon bombing captured the hearts of the world. Based on Bauman's New York Times bestselling book, co-authored with Bret Witter.
News & Interviews for Stronger
Critic Reviews for Stronger
Audience Reviews for Stronger
Emotionally affecting, powerful acting performance by Jake G, and a great true story. Loses a star because it normalizes drinking and driving, which triggered me.
Spencer Macklin
Super Reviewer
½
An inspiring true-life story that still manages to stay grounded on its own terms, Stronger is an emotionally affecting movie buoyed by two sensational performances. Jake Gyllenhaal plays Jeff Bauman, an ordinary guy who is present at the 2013 Boston Marathon bombing and loses his legs in the attack. He was there to support his on-again off-again girlfriend, Erin (Tatiana Maslany). Needless to say, his whole world changes and he has to adjust to a new life, a new identity, and the hardships placed upon others within his family sphere, especially Erin. This is a very solid meat and potatoes kind of drama. It's not flashy or inventive but it has serious human drama and it treats it as such. I was on the verge of tears for a solid thirty minutes. Gyllenhaal delivers yet another Oscar-worthy performance, burrowing into an average screw-up thrust into the national limelight. Everyone tells him he's a hero, but he doesn't feel it. Everyone wants a piece of him and his doting mother (Miranda Richardson) often blurs the line between pride in her son and exploitation. The colorful, coarse, dysfunctional family dynamic will remind many of 2010's The Fighter. I greatly appreciated that even after the terrorist attack Jake is not canonized. He's no saint just because something terrible happened to him. Director David Gordon Green (Pineapple Express) takes great care to keep the movie grounded even as it hits the standard inspirational notes, finding moments of grace in unexpected places and people. The backbone of Stronger is the thoroughly moving relationship between Jake and Erin. They have exchanges of both ferocious anger and deep tenderness. A post-amputation sex scene between them is so intimately filmed by Green that you almost feel like you're intruding. Maslany (Orphan Black) can break your heart or make it melt just with an expression. The non-verbal acting in this movie is truly exceptional. Stronger is a strongly developed drama with characters that earn every one of your hard-fought tears. Nate's Grade: B+
Nate Zoebl
Super Reviewer
I usually don't let emotions take over when watching a film, but when a movie focusses all of its attention to the harsh realities of the true story it's conveying, it's not to get a little teary-eyed. With last years release of Patriots Day, the very idea of this film had be worried that they were trying to bank off this tragedy, but that can't be further from the truth with Stronger. Many may not find this film to be quite as emotionally powerful as I did, but I feel that most people will have to agree that it's done impeccably well in that regard. Here is why Stronger deserves its critical praise and why you'll probably be hearing about this film throughout award season very soon. Thousands of people gather around to watch the Boston marathon, but nobody expected the event that occurred by the finish line. Stronger exists to open the eyes of those who saw this man (Jeff Bauman) as a hero. While he's the personification of a fighter, which makes him a hero to others, this story is also an exposé for everyone across the planet that has lost someone in a horrific way, or those who have been through a tragedy and must live with newfound consequences. Focussing on the hardships of what he went through after this tragedy, I was so glad to see a more global feel when sharing emotions with its audience. Look, I know this may be too early to state, seeing that many more films are coming this year, but if both Jake Gyllenhaal and Tatiana Maslany both don't receive nominations for their performances here, I'll be genuinely shocked. When it comes to stories like this, you need to perfect your casting in order to make the audience believe this really happened, and my compliments toward these two young performers couldn't be any higher here. Every second either of them were on-screen, I found myself transfixed and completely sucked into their world. These two deliver what is quite possibly the performances of their careers, even though they both already have quite impressive resumes. This man had already been through a lot before his incident, so having to go through this and find a way to live a somewhat normal life was always going to be a challenge. Nobody could've expected him to recover to full normality, but he definitely does the best he can, given certain circumstances. From a family that just wants to joke around most of the time, to being in a love/hate relationship with the girl of his dreams, to having to deal with the loss of his legs and never being able to live a normal life, this is a very hard journey to take in, even though it's incredibly well-done. In the end, I left this film feeling empowered and saddened all at the same time. The roller coaster of emotions that Stronger sends you on it definitely one of the most powerful experiences you will have all year, whether or not you directly relate to it or not. With pulse-pounding realism, world-class performances, an emotionally resonant climax, and an overall journey that I believe everyone needs to experience, this is one of the best films of the year by far, at least in my opinion. I would be shocked if it's not talked about throughout award season. Stronger is the very definition of powerful, and although it can be hard to take in at times, I can't recommend checking this film out enough.
Stronger Quotes
There are no approved quotes yet for this movie.
Discussion Forum
Discuss Stronger on our Movie forum!