Tales of an Ancient Empire
(2010)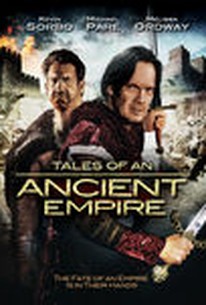 AUDIENCE SCORE
Critic Consensus: No consensus yet.
Tales of an Ancient Empire Videos
Tales of an Ancient Empire Photos
Movie Info
Kevin Sorbo, Christopher Lambert, and Melissa Ordway star in The Sword and the Sorcerer director Albert Pyun's imaginative fantasy adventure following a determined princess on her quest to defeat an infernal enchantress with the help of a powerful warrior. During the course of their arduous crusade, the brave warriors battle mythical creatures, and make a shocking discovery about the past. ~ Jason Buchanan, Rovi
Audience Reviews for Tales of an Ancient Empire
Albert Pyun's 1982 film THE SWORD AND THE SORCERER is one of my all-time favorite movies. It's a highly memorable, gloriously cheesy tale about a roguish hero with a bitchin' TRIPLE-BLADED SWORD THAT ALSO SHOOTS BLADES. This sequel... is not. And really, I can't call it a sequel because I can't even call it a movie. Movies have things like... plot and structure. The most interesting story bits are poorly narrated rather than shown. The entire length of this film is spent on setup, there is literally no final resolution or confrontation - the heroes simply spend an hour setting out on their quest and getting imprisoned. The protagonists are legendary Japanese ruler Oda Nobunaga and his adult children - portrayed as WHITE EUROPEANS. Whoops. Aside from Sorbo, the actors are uniformly terrible, delivering grandiose epic dialogue in stilted modern accents (excepting Ralf Moeller, who plays the most compelling character, and whose tiny role is completely wasted). Practically the entire thing is shot on a green screen and highly-saturated monochromatic color timing is abused throughout - nighttime is blue, daytime is orange. Many shots are re-used several times. It looks worse than an Asylum picture. Terribly produced sub-TV level CGI is also prevalent, which is especially disappointing since the original TS&TS is such a marvelous showcase of practical effects. One wonders if Pyun even sat down and watched the original before setting out to make its sequel. I know this film had a microscopic budget which hindered it immensely, but the terrible story, structure, and editing can't be excused. I never curse, but WHAT A STEAMING FUCKING PILE OF DONKEY SHIT.
Austin Vashaw
½
This is how you stretch a low budget. Some original storytelling tactics and some kick-ass music do so much more than crappy CGI. This will be a cult favorite.
Jeff B
If anyone comes across this one out there, please stay away from it. This is not a class "B" movie it is more like a class "D" movie. The acting was horrible, it is sad to see Kevin Sorbo sink so low in his career that he is reduced to this kind of crap.
Ken T
Tales of an Ancient Empire Quotes
There are no approved quotes yet for this movie.
Discussion Forum
Discuss Tales of an Ancient Empire on our Movie forum!