The Tall T
(1957)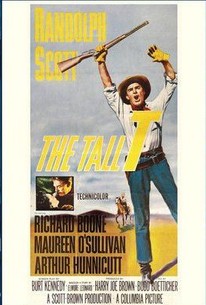 Movie Info
Perhaps the grittiest and grimmest of the Randolph Scott-Budd Boetticher collaborations, The Tall T was adapted by Burt Kennedy from the Elmore Leonard short story The Captive. Scott plays a former ranch foreman who, along with newlyweds Maureen O'Sullivan and John Hubbard, is held hostage at a deserted stagecoach station by ruthless bandit Richard Boone and his henchmen Henry Silva and Skip Homeier. Since we already know that Boone has no qualms about killing a freckle-faced 10 year old boy, we shudder to think of what's in store for Scott and his fellow captives once Boone carries out his plan to rob the next stagecoach. In Boetticher's time-honored Mexican Standoff fashion, Scott bargains with Boone for the life of O'Sullivan, but his efforts are undercut by Hubbard's cowardly treachery. The film's sparse, carefully controlled tension level bursts into full-out bloodshed only minutes before the final fade-out. Curiously, the title The Tall T is never explained at any time; certainly the "T" doesn't refer to Randolph Scott, whose character name is Pat Brennan.
Critic Reviews for The Tall T
Audience Reviews for The Tall T
Awesome minimalist western. The dialog crackles. it should, it's taken directly from the Elmore Leonard short story it's` adapted from. If you've seen a lot of westerns, and haven't seen Tall T check it out. If you haven't, I wouldn't start here. See the classics, then come back to this one. You'll get more out of it. Trust me.
Ken Stachnik
Super Reviewer
Although the main hero is kind of boring and, at times, annoying, the great performances by the villains make it much more tolerable, and often pretty fun. Still, compared to some other westerns, this one doesn't quite measure up. It's just a little too cheesy to be taken too seriously. Still fun though.
excellent script based on an early elmore leonard short story, excellent direction by the ever economical budd boetticher, excellent performances by some iconic actors = one excellent western
Stella Dallas
Super Reviewer
The Tall T Quotes
There are no approved quotes yet for this movie.