Tarzan Triumphs
(1943)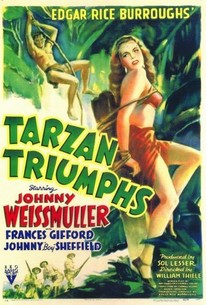 AUDIENCE SCORE
Critic Consensus: No consensus yet.
Movie Info
World War II rears its ugly head in this patriotic (if somewhat nonsensical) Tarzan picture. When a Nazi pilot (Rex Williams) crash lands in the jungle, he is nursed back to health by Tarzan (Johnny Weissmuller) and Boy (Johnny Sheffield). The isolationist ape man is vaguely aware that the Nazi is part of an invading German force, but he refuses to become involved with the problems of the world. The Nazis march into a "lost" jungle kingdom, enslaving the citizens and threatening the life of their princess (Frances Gifford). Gradually Tarzan becomes convinced that the Nazis are up to no good, destroys their invasion plans, and restores the princess to her throne. Don't miss the Tarzan Triumphs scene in which Cheeta the chimpanzee is mistaken for Adolph Hitler!
Critic Reviews for Tarzan Triumphs
Audience Reviews for Tarzan Triumphs
This film is from the Tarzan Collection and its good to see that the Tarzan movies are finally being put on DVD. These are the movies I grew up with and its really neat to see all the things I missed when I was a kid watching these exciting adventures. In this one Tarzan helps a native women named Zandra. Jane is back in England. Zandra's people are being held captive by the Nazi's. Pure Nazi hate through out the film something we wouldn't see in today's movies it just would be political correct. Tarzan fights the Nazi's single handed, no alligator fighting or lion fighting in this one. Cheetah has a large part. Thank you film makers for all the years you brought Tarzan a role model of the sixties too the screen, unlike 2012 where the role models are gangsters. 4 stars
Bruce Bruce
Super Reviewer
Discussion Forum
Discuss Tarzan Triumphs on our Movie forum!