Temptress Moon
(1997)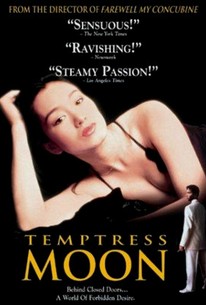 Movie Info
Distinguished (and controversial in his native China) filmmaker Chen Kaige, directed and wrote the scenario for this sumptuous and complex melodrama set just before the formation of the Chinese Republic. The begin on the mainland in 1911, the day before the Imperialist government fell. The beautiful young woman Pang Ruyi, of the wealthy, powerful Pang clan, is seen smiling through an opium haze as her handsome young cousin from the provinces, Zhongliang, arrives to her palatial family home at the invitation of his sister Xiuyi, who married Pang family's eldest son, a serious opium addict. While there poor Zhongliang is subjected to much physical and emotional abuse. They treat him like a servant and at one point, his brother-in-law nearly molests him. The youth gets no help from his conniving social-climbing sister. Zhongliang's only bright spot is Ruyi, whom he secretly loves. Eventually Xiuyi's husband overdoses on opium and becomes a brain-dead vegetable. Zhongliang leaves the house. By the '20s, Zhongliang lives in Shanghai and has found a mentor with a sophisticated gangster who teaches him be a successful gigolo in the city's glittering, notorious nightclubs. Back at the Pang estate, Ruyi's brother dies and she begins running everything assisted by her distant relative Duanwu, who to maintain family face in the patriarchal society functions as the household's figurehead manager. Duanwu soon falls in love with Ruyi, who keeps her distance. Meanwhile Zhongliang's boss, wanting to get at the Pang wealth, strongly encourages his protégé to return to the estate and seduce Ruyi. This he does, but while there finds himself mentally reliving the pain he suffered (revealed via flashback). Ruyi, also finds it difficult to continue to run the enormous house, keep Duanwu at bay and feed the fires of her passion for Zhongliang. Meanwhile widowed Xiuyi, who finds herself only a dependent in the household with no power and no purpose, grows increasingly jealous. Zhongliang, realizing that Ruyi cannot give him all he wants (for he truly loves her) returns to Shanghai, his confidence as a lover deeply shaken. Meanwhile, the gangster decides to snap Zhongliang out of his funk by having Ruyi come to Shanghai to secretly watch the youth in action with his favorite older client. A violent confrontation ensues back at the Pang estate and one person dies during the conflict. This film was banned in China shortly after authorities approved it for export.
Critic Reviews for Temptress Moon
Audience Reviews for Temptress Moon
½
Out of all the movies I have seen from the Far East this was one of the hardest to keep up with, took about 50 minutes to get straight who was who and who was doing what. Movie is set back in 1911 time frame, and when the master dies his son is in no condition to rule the family (A bad day with Opium ruin his mental facilities.) So wit no choice but to allow Ruyi (Li Gong)the daughter to rule the family, her first action is to throw the whores and concubines out of the house, this really pisses off the elders. As time goes on she falls in love with her brother in law who is a sleaze bucket from Shanghi. In the eng Ruyi falls victim to the same fate as her brother. Not as good as other Asian films I have seen but worth 3 1/2 stars.
Bruce Bruce
Super Reviewer
Temptress Moon Quotes
There are no approved quotes yet for this movie.