The Dead Outside
(2009)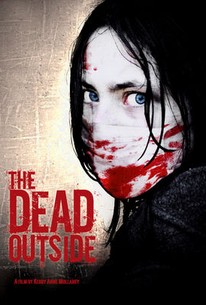 AUDIENCE SCORE
Critic Consensus: No consensus yet.
Movie Info
A mysterious girl with a dark past and a desperate survivor still mourning the loss of loved ones attempt to avoid falling victim to a highly-contagious psychological plague by holding up in an isolated Braehead farm in first-time feature film director Kerry Anne Mullaney's grim apocalyptic thriller. It swept through the populated areas of Scotland like wildfire, a neurological plague that rendered it's victims frightened, paranoid, and deadly violent before ultimately taking their lives. Daniel refuses to give up hope that the outbreak was isolated to Scotland, and April has been surviving on her own for months. Shortly after the two come together at a secluded farm, they set up a barbed wire perimeter to protect them from wandering plague victims who may try to break in. But there's an even more dangerous enemy than the one that wants to infect their minds and render them mad, an enemy that is closer to home than either Daniel or April realizes. Before long, they will have to face this enemy head on. ~ Jason Buchanan, Rovi
Critic Reviews for The Dead Outside
All Critics (1) | Fresh (0) | Rotten (1)
a familiar apocalyptic scenario (pandemic virus turns the infected into flesh-hungry killers) within an unusually intimate frame.

Audience Reviews for The Dead Outside
The Dead Outside (Kerry Anne Mullaney, 2008) Given (a) the explosion in zombie films in the last decade and (b) the rise of the aggressively-indie movement that paralleled it (admit it, you never want to see another mumblecore movie as long as you live), it was inevitable that someone would eventually cross these two genres to see what came out of it. While you wouldn't be terribly far off if you immediately yelled "Shaun of the Dead!" after reading that, enter British filmmaker Kerry Anne Mullaney, who took a budget, reportedly, of four thousand pounds and made... I'm sorry, I can't resist. The world's first, and hopefully last, zombiecore movie. The upside of this is that the best zombie films focus on the survivors anyway, and when you're focusing on as small a band of survivors as you do in this film (mostly two, with a third popping up later), you're already in indie-film nirvana. Mullaney internalized the best parts of the high-quality zombie movie and, um, the best parts (?) of hipster drama and came up with The Big Chill Part 2: Kevin Costner Rises from the Tomb. The downside is, well, The Big Chill Part 2: Kevin Costner Rises from the Tomb. Plot: Daniel (Timelock's Alton Milne) is, as far as he can tell, the lone living human left in England as the movie opens. He is travelling through the countryside, trying to get away from the hungry dead while scavenging enough food and gas to keep himself and his car going. Until, that is, he finds a farmhouse, goes looking for food, and finds April (Sandra Louise Douglas in her only screen appearance to date), another survivor, who may be somewhat deranged. (It would be silly to use the term "socially awkward" when there aren't enough people left alive to be awkward around.) Daniel's not initially thrilled with April's company, but the farmhouse is defensible, there's strength in numbers, and hey, it's another living human being, so he sets up shop, and eventually the two become civil to one another. The dynamic changes when a third survivor, a nurse named Eleanor (Nine Lives' Vivienne Harvey), comes across the pair. The more I think about it, the more potential the zombie drama has; indie drama filmmakers have been coming up with small-cast dramas set in confined spaces for decades. My Dinner with Andre, anyone? The only thing you need to change is the reason the cast can't leave the space. (Imagine what Buñuel would have done with that!) Mullaney is about halfway there in The Dead Outside, and some of the bad public reaction to the movie surely stems from the minimal use of the actual living dead here; zombies are mostly set decoration rather than menace when they're onscreen at all, and gore is even harder to find in this film. But the movie is certainly not perfect; its budgetary constraints show in a number of places (most notably in the sound mix; I don't know if this movie was DTV, but if it received a theatrical release, it's possible the big-screen sound was better and much of the problem with it when I watched it on Netflix was due to sound transfer woes, so I'm trying to give it the benefit of the doubt). Then-I'm getting slightly into spoiler territory here, though I can't imagine anyone reading that synopsis didn't grok this immediately-the handling of the love-triangle aspect of the film is...not all it could be. (We don't want to get too far into spoiler territory.) Not to say what's here isn't decent, but it seemed to me an angle that Mullaney and co-writer Kris R. Bird could have gone a lot deeper than they did there. Do you get the idea from reading this review that I'm torn on this movie? You're right. I've been turning it over in my head for quite a while now and still haven't reached a verdict on whether I even liked it or not yet-but the fact that I'm still thinking about it is certainly worth something. So I'm left with giving it the gentleman's C, though knocking it up half a star for still being on my mind after all this time, and saying "let the viewer decide". You could go either way on this one. ***
Robert Beveridge
The Dead Outside Quotes
There are no approved quotes yet for this movie.
Discussion Forum
Discuss The Dead Outside on our Movie forum!