The 9th Company (9 rota)
(2005)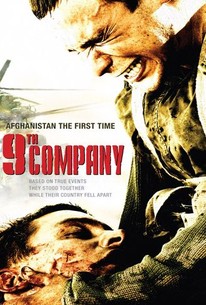 The 9th Company (9 rota) Photos
Movie Info
Fedor Bondarchuk, the son of noted Russian filmmaker Sergei Bondarchuk, debuts as a director with the harrowing and relentless military drama 9th Company, set between 1988 and 1989 at the tail end of the U.S.S.R. Afghani war (the Soviet equivalent of Vietnam). The picture opens in Krasnoyarsk, Siberia, in late 1988, when military trainees Petrovsky, Ryaba, Chugun, Stas, Pinochet, Lyutev and Vorobyev are whipped into shape at a training camp by the brutal, sadistic commander, Warrant Officer Dygalo - prior to being sent off to the front lines. After several one-by-one dalliances with the local whore, Snow White, and a cautionary lecture on the history, geography and culture of Afghanistan (which most of the men sleep through), the trainees head off to battle - first to the Bagram air base, then to the Afghani province of Khost to secure supply lines. But nothing can begin to prepare them for the brutal devastation into which they are plunged, or the relentless tide of slaughter that scatters thousands of Soviet victims in its wake.
Critic Reviews for The 9th Company (9 rota)
Audience Reviews for The 9th Company (9 rota)
A excellent Russian Film based on a true story of a battle in the invasion of Afghanistan. See a group of young men from home town to boot camp to the war in Afghanistan. What we see what happens to these men, in the end Russia is a broke nation from a useless, senseless, life costly war. Does it sound familiar, one line in the war by a Sergeant Major, Afghanistan a nation that has never been defeated. So what did we learn from the Russians nothing. A very bloody story, would not recommend for any solider who has been in battle the past year. 5 stars
Bruce Bruce
Super Reviewer
½
In a word, FANTASTIC! This film is so well made, you would think it was a big budget hollywood flick. The dvd has both english & russian soundtracks. Don't sell yourself short by watching the dubbed version. The acting, directing, and screen writing is top notch. I got goosebumps watching this film. This is basically a story about the tail end of the Russian occupation of Afghanistan. The film tells of the gruesome nature of war, and it's lingering effects. The special effects, and action sequences, left me in awe. What a gem.
Cynthia S.
Super Reviewer
½
A Russian Full Metal Jacket that takes us from the training of troops to their eventual tragic deaths. Set during the 80's conflict with Afghanistan you would expect that artistic parallels would be drawn. Unfortunately this is as much a Hollywood war film as Flags of Our Fathers or We Were Soldiers. It is filled with poor writing that leaves us with hollow characters personified by a single word. Artist and virgin being the two that spring to mind. You've probably guessed already that the artist is rather poetic and sees even the beauty in war while the virgin cries a lot and is scared. All these men are here by choice, we here about lives back home and they are offered a chance to not go to such a dangerous place. They all turn it down and here would be a perfect place to explore more of the characters. It never happens. The film goes on to spread a message we all know. Soldiers are heroes and fight for their countries no matter what the politics. Some nice artistic shots keep the film interesting and even exciting. One shot sees the drill sergeant denied the opportunity to go to go back into battle where all his friends died. He sits alone in a field of poppies silently crying. This one shot says more than the rest of the film.
Luke Baldock
Super Reviewer
The 9th Company (9 rota) Quotes
There are no approved quotes yet for this movie.