The Dish & The Spoon
(2012)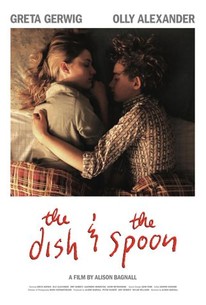 The Dish & The Spoon Photos
Movie Info
Devastated by the news of her husband's affair and convulsed by waves of grief and rage, twenty something Rose (Greta Gerwig)-vengeful, a bit unhinged, and still clad in her pajama bottoms-drives to a sleepy seaside town in Delaware intent on finding her spouse's lover. Climbing into an old lighthouse on the beach to swill a six-pack of beer, Rose stumbles upon a sleeping British teenager (Olly Alexander) whom she wakes and insists on taking somewhere. Stranded by some unknown party, the chatty, ludicrously attired youth accompanies Rose to a brewery where "the other woman" was recently employed and then to her parents' summer getaway house, slowly attuning to her anguish. As the grey winter days roll by, the mismatched pair embark on a series of frolicsome adventures-English dance lessons, role-playing in public-that bring them into closer quarters, igniting a bittersweet, perhaps imaginary romance. -- (C) Alison Bagnall
News & Interviews for The Dish & The Spoon
Critic Reviews for The Dish & The Spoon
Audience Reviews for The Dish & The Spoon
Driving off crying and apparently in her pajamas to boot, Rose(Greta Gerwig) is too upset to have remembered her wallet, leaving her just enough money for the breakfast of champions, donuts and beer. She would prefer enjoying this delicious meal in the privacy of a lighthouse but discovers a young englishman(Olly Alexander) sleeping there. Concerned for his welfare, she offers to drive him to a hospital but he waves her off. Instead they go to the brewery where until very recently the woman who had an affair with Rose's husband worked. As long as they are there, they have a beer or ten, while playing hangman and Rose discloses her plans. To be honest, "The Dish and the Spoon" does not have much in the way of a story, just people living in the past which applies to not just Rose, a mentally unstable woman, just as it is occasionally good to get away to gain some perspective. At the same time, neither of the lead characters seemed to have existed before the movie started. Otherwise, it is up to the Delaware Tourism Board and the two talented lead actors to produce anything of substance and just as importantly to prevent the movie from going over the ledge into cringeworthy territory.
The Dish & The Spoon Quotes
There are no approved quotes yet for this movie.