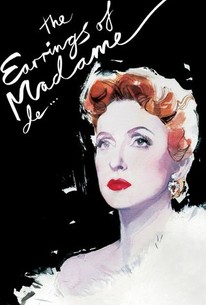 The Earrings of Madame De ...
1953, Drama, 1h 45m
35 Reviews
1,000+ Ratings
What to know
critics consensus
Ophüls' graceful camerawork and visual portrayal of luxury and loss make Earrings a powerful French drama. Read critic reviews
Where to watch
Rent/buy
Subscription
Rent/buy
Rate And Review
The Earrings of Madame De ... Photos
Movie Info
This film follows a pair of earrings as they change hands during a series of betrayals and romances. A French general (Charles Boyer) presents his wife with the pricey jewelry, but she is forced to sell the earrings after she runs into financial trouble. When the general sees them in a shop, he secretly purchases them back for a woman he is having an affair with. Then, after a gambling loss, she pawns them, and an Italian aristocrat (Vittorio De Sica) buys them for a special Frenchwoman.
Audience Reviews for The Earrings of Madame De ...
Yes the tracking shots are beautiful but its the pure simplicity of the tragedy that is truly staggering here. Every moment falls into place perfectly.

As the earrings of the wife of a rich General circulate from hand to hand but always find a way back to her, it may seem like a silly plot device, and perhaps it is. However, it is interesting to watch Danielle Darrieux (the wife) lie to Charles Boyer (her husband) about how she's lost and then later found these earrings, which were a wedding present, and eventually to Vittorio De Sica (her lover) as well, without realizing that in each instance these men know they're being lied to. The restraint shown in their facial reactions is fantastic. All three turn in subtle and nuanced performances, and the movie as a whole captures the grace of the 19th century with several ballroom scenes. Director Max Ophüls shows restraint as well, as the progress of the affair is shown during commentary and the pair dancing over many late evenings. This is a good film to be sure, but I don't think it lives up to its reputation, which has grown over the years. The passion is a bit too far beneath the surface for my taste, and the plot reminds one of 19th century fiction, which had a tendency to be over-constructed.

A very entertaining romp through the intrigue of Madame De... and the true story of where her earrings disappeared to and where all they travel..through wives, mistresses and across the continent.

As the film opens, Madame Louise is looking through her things for something to sell, in order to have some extra spending money. In lieu of her furs or her diamond cross pendant, she takes out a pair of earrings. She sells them, then pretends to "lose" them at the opera one night. When the missing earrings are reported in the paper as stolen, the jeweler she pawned them off on comes to return them to her husband, the General (Charles Boyer). The general buys them back and gives them to his mistress, who's about to leave the country on an extended trip to Constantinople. When the mistress runs upon hard times, she hocks the earrings and it's then that the visiting ambassador, Baron Fabrizio Donati buys them. Donati meets Louise at customs and falls in love with her at first sight. As the two pursue a friendship that turns into romance, he gives her the earrings, not knowing they were originally hers. That Louise could sell the earrings her husband gave her as a wedding present speaks of how she regarded her marriage to the General. It's not as if the general were a bad man or that they weren't quite suitable companions. "I don't like the person I've become in your eyes" says the general to Louise, who suddenly feels the painful sting of jealousy as he watches his wife fall in love with another man. The general, deep down, is quite a human character, perhaps even more so than the overly romantic Baron who comes to steal away his wife. The idea that people create these narrow pathes through life that they limit themselves to is not strictly the domain of the upper class of the past. Perhaps it's a lesson to be found in watching the, uhs... march to their own respective dooms in such orderly fashion.
See Details