The FP
(2012)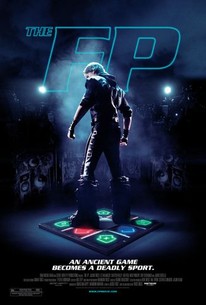 Movie Info
In a dystopian future, a relentless turf war rages. Two rival gangs feud for control of rural wasteland Frazier Park ('The FP') in the deadly arena of competitive dance-fight video game "Beat-Beat Revelation." After hometown hero BTRO is slain on the dance platform by thug leader L Dubba E, his protégé younger brother JTRO (Jason Trost) goes into isolation, vowing never to duel again. One year later, The FP is in ruins, and JTRO must find the courage to return and restore order in a ruthless battle for revenge that can only leave one man dancing. From the producers of Paranormal Activity and featuring narration by James Remar (The Warriors), THE FP is a fury of fierce footwork, triumphant montages and neon street wear that Moviefone calls "a rare ready-made cult hit." -- (C) Drafthouse
Rating:
R (for pervasive language, sexual content, some nudity and brief drug material)
Genre:
,
Directed By:
Written By:
In Theaters:
On DVD:
Runtime:
Studio:
News & Interviews for The FP
Critic Reviews for The FP
Audience Reviews for The FP
½
The story is insane, the dialogue is tacky and repetitive, the characters make no sense and the entire film is bad. However that doesn't mean it isn't fun to watch. Grab a group of friends and laugh hysterically and the terribleness. It's also incredibly quotable and lends itself to great inside jokes.
Marty Delaney
I love my friends, thanks to them I have seen incredible movies I wouldn't have probably seen on my own. Of course with that sometimes you end up seeing a movie like The FP. A gangland rivalry film where disputes are settle via a Dance Dance Revolution type game. The good, well the electronic infused soundtrack is quite catchy, everything else is bad. The plot is basically the main character JTRO watching his best friend die playing the game at the beginning (it's not lethal as a point yet somehow he still dies) so he goes into exile is prompted back to save the neighborhood (the titular FP). You get bad acting compounded by the decision to add there own slang and style of talking which makes some me wish there was an English translation at times. You also get the training montage, the win the girl back from his rival, learn to respect and stand up for yourself. It feels like it would a great parody of these yet everything is done so seriously that it just comes off painful. The FP commits fully to it's premise to bad that doesn't help it be a good film.
Tim Rudzianski
In the future rival gangs fight for control of a lawless suburban town, gaining power and street cred by winning dance video game duels. You have to give THE FP credit for playing the goofy idea straight, but unfortunately the overall message seems to be that the wannabe gangsters of the apocalypse will be just as annoying as today's youth are.
The FP Quotes
| | |
| --- | --- |
| KC/DC: | "You shoulda seen it BLT. JTRO was all like bop bop bop, just making connections. Bitch fired off a few lucky shots, but JTRO jumped his ass and was like Bow to the Bridge, Yo Kick it! Believ' dat!!!" |
| KC/DC: | You shoulda seen it BLT. JTRO was all like bop bop bop, just making connections. Bitch fired off a few lucky shots, but JTRO jumped his ass and was like Bow to the Bridge, Yo Kick it! Believ' dat! |