The Girl With All the Gifts
(2017)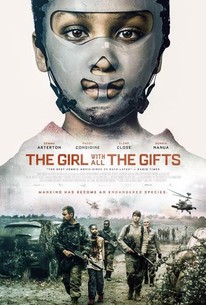 TOMATOMETER
AUDIENCE SCORE
Critic Consensus: The Girl with All the Gifts grapples with thought-provoking questions without skimping on the scares -- and finds a few fresh wrinkles in the well-worn zombie horror genre along the way.
The Girl With All the Gifts Videos
The Girl With All the Gifts Photos
Movie Info
The near future humanity has been all but destroyed by a mutated fungal disease that eradicates free will and turns its victims into flesh-eating "hungries". Only a small group of children seem immune to its effects. At an army base in rural England, this group of unique children are being studied, subjected to cruel experiments by biologist Dr. Caldwell. Despite having been infected with the zombie pathogen that has decimated the world, these children retain normal thoughts and emotions. And while still being subject to the craving for human flesh that marks the disease these second-generation "hungries" are able to think and feel making them a vital resource in the search for a cure. The children attend school lessons daily, guarded by the ever watchful Sergeant Parks. But one little girl, Melanie, stands out from the rest. Melanie is special. She excels in the classroom, is inquisitive, imaginative and loves her favourite teacher Miss Justineau. When the base falls, Melanie escapes along with Miss Justineau, Sergeant Parks and Dr. Caldwell. Against the backdrop of a blighted Britain, Melanie must discover what she is and ultimately decide both her own future and that of the human race.
News & Interviews for The Girl With All the Gifts
Critic Reviews for The Girl With All the Gifts
Audience Reviews for The Girl With All the Gifts
½
The Girl With All The Gifts is a prime example why British zombie films are the best. When you compare something like 28 Days Later to World War Z, the former is head and shoulders above the latter. There is something about the backdrop of England (maybe because I live there) and a smaller budget that makes these films much more terrifying. In this iteration, a mutated fungal disease has turned the human race into flesh-eating...wait for it..."hungries". Some children are immune to it and are able to interact with the environment whilst still having the infection. So essentially half "hungry" and half human. Can they be trusted? That is the question. I really liked the atmosphere to this film, the aesthetic appeal felt like the video game The Last of Us. The production design of post-apocalyptic England looked great, the surge of environmental succession in urban settlements felt fitting. The makeup for the "hungries" was realistic...in a horrific kind of way. The cast was excellent, Gemma Arterton, Paddy Considine and Glenn Close were all dependable and brought much needed humanisation to the story. Newcomer Sennia Nanua was able to hold her own against these experienced actors, I thought she performed well. The story in itself is basically survival. Both for the human race and Melanie's (Nanua's character) own future, so there is an internal conflict. Unfortunately, that conflict isn't well presented and I'm sure everyone who has seen it knows that the ending was...an interesting choice to say the least. I won't ruin it but a decision is made out of nowhere, it felt rather out of place. I'm not entirely sure how I feel about it. The script is concise, perhaps too concise to the point where our characters are considered monotonous. This is definitely more of a visual story, and the eerie musical score helps elevate the creep factor substantially. I found it to be hypnotic. This is a good little zombie flick that has excellent technical aspects, although the execution of the ending is questionable.
Luke Andrews
Super Reviewer
½
The Gurl with all the Gifts is not to be missed. Yes it is a bloody post apocalyptic thriller, but it takes the genre in a new direction. Acting by Glenn Close and the girl playing Melanie almost paralleled, shows we will do anything to survive.
Jarrin Rozenblad
Super Reviewer
½
You know, I wonder how difficult it must be to come up with a fresh angle to tell your story within the context of the zombie genre. The genre itself has been overcrowded for the longest time, but that was only exacerbated by the release, and major mainstream success, of The Walking Dead (ie: THE most boring show with zombies ever). The phrase 'zombie apocalypse' is now a regular part of our pop culture, with references to it everywhere. Film studios, trying to cash in on TWD's success, have commissioned countless of other zombie films in the same contemplative and loquacious style as TWD. None of these films every, truly, innovated, they just iterated. These films added their two cents without changing any of the conventions and tropes associated with the genre. Now, I'm not saying this is the most original of movies in existence, but its exploration of thought-provoking themes in an intelligent fashion and its credibility make this a 'zombie' movie with far more on its mind than just showcasing mindless husks tear humans to pieces, in some cases literally ripping them apart limb from limb. What I mean by credibility is that the fungus/virus that's afflicting Melanie (the girl with all the gifts as it were) is a very real fungus. Part of me, prior to having done some research, assumed that the virus in question here was inspired by the video game The Last of Us. What I mean by that is how the design of the 'hungries' (their terms for zombies in this film) made it look like they had a fungus growing out of their skin, this is very similar to The Last of Us. But, again, upon doing some research, the game and the book this film is based on, use a very real fungus for inspiration. Its scientific name is ophiocordyceps unilateralis. If you do some research on this fungal infection and what it actually does to its hosts, it's a pretty fucking terrifying thing to imagine. Currently, the infection is known to affect ants, but the fact that there's a real fungus that alters your behavioral patterns so it can continue to spread its fungus among ants is really quite creepy. Because it leads you to think of possibilities you only think are possible in the films. What if this fungus evolves to the point where it can actually affect humanities? How would it affect the world if such a fungus were to spread widely? That's what I mean when I say that there's more credibility here. While a lot of zombie films are similar, the origin of the virus is usually exaggerated. The origins of the infection in this film and the Last of Us are about as real life as the zombie genre gets. But I digress, I really liked this movie quite a bit. Structurally speaking, it's not that different in that it features a group of people who are trying to escape an overrun base. A base where they kept children, who are infected with the virus, who someone are able to think for their own and speak. They experiment on these kids at the base, in hopes of finding a cure. While preparing to perform a procedure that would have removed Melanie's brain and spine, thereby killing her, the base is overrun by the hungries. A group of people are able to get away, including several soldiers and the sergeant, Melanie's teacher and Dr. Caldwell (the scientist who was gonna perform the procedure). Admittedly speaking, their journey to reach Beacon (like a mother base type thing) is pretty much what you would expect from this type of film. There's not much in the way of variation when it comes to the journey and their end goal. The goal is staying alive just long enough in order to, maybe, still create a cure using Melanie. But where the film finds its strength is in exploring the quirks of Melanie's personality. Dr. Caldwell believes that the reason that the children speak and think for their own is because of the fact that the fungus has evolved to imitate human behavior. That's the film's biggest themes, as to whether or not Melanie is a thinking, feeling human being. Is she alive? Or is the fungus making her act in such a way simply because of its own survival instincts? It's a vert interesting approach. Obviously, however, the movie doesn't skimp on the horror aspects, there's still plenty of bloody zombie gore here. But if you decide to view this movie simply on that, then you would really be missing more than half of what the film has to offer. This is not just a zombie movie, it's a movie with well-written and thought-out characters struggling to survive in a world that's, seemingly, been rigged against them ever since the infection started. The only character that's really explored at depth is Melanie, but it's not like the rest of the cast drag their feet behind her. It's just that Melanie is at the root of everything that happens in the film, the narrative centers on her and her adjustments to life in the 'real world'. The film goes to some pretty interesting places, particularly during its climax and how a certain person's actions are, really, bound to doom what is rest of humanity. It's very similar to ending from The Last of Us in that one person's selfish actions will keep humanity from ever reaching a cure. Melanie is that person who has doomed us all with her selfish actions. Which brings an interesting question to mind, was it actually Melanie doing this or the fungus inside her insuring that humanity is wiped out? It's very interesting to ponder. But there's very few movies that go out of their way to make one of their characters into a completely selfish and contemptible person, particularly when that person is a pre-teen girl. But I think it works, since very few movies have the balls to give you an ending to a post-apocalyptic that isn't hopeful. There's always some sort of 'we will find a way to overcome this' feel at the end of most of these movies. But nope, not this one. We are fucked and there's no way to come back from what was done. No way whatsoever. It's a risky move, but one that I think pays off. The acting is excellent all around, no complaints there. But, yea, I don't really have much else to say. I thought this was a damn good movie. It's not a film that's gonna revitalize the genre, but the fact is that it still manages to add its own little wrinkles to an overpopulated genre. I'd recommend it just based on that, but this is still a really damn good movie on its own merits.
Jesse Ortega
Super Reviewer
The Girl With All the Gifts Quotes
There are no approved quotes yet for this movie.
Discussion Forum
Discuss The Girl With All the Gifts on our Movie forum!