The Hollow Point
(2016)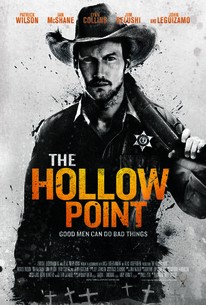 Movie Info
THE HOLLOW POINT is a visceral story, set in the back roads of a border town, about a botched Mexican cartel arms deal that leaves several dead and a bag of money missing. An aging retired sheriff with violent tendencies and his young replacement with a dark past must join forces to investigate the source of this deal and protect the residents of the town. As the story twists and turns, a mysterious and vicious cartel hitman arrives in search of the missing loot, systematically eliminating anyone who crosses his path. After discovering that the new sheriff's girlfriend is on the hitman's list, the lawmen must abandon their law enforcement ideals in order to even the playing field. This gritty and modern thriller collides head on with the pathos and hard realities that inhabit life along the border: it's a story that explores the difficulties and consequences that turn men into monsters and monsters into reality
News & Interviews for The Hollow Point
Critic Reviews for The Hollow Point
Audience Reviews for The Hollow Point
Not the worst and far from a great neo noir thriller but it had great actors doing okay with the shoddy material. This very bleak film could've done with a splash of humour to add something different because the camera work and script is very formulaic.
Brendan Nicholls
Super Reviewer
The Hollow Point Quotes
There are no approved quotes yet for this movie.