The House
(2017)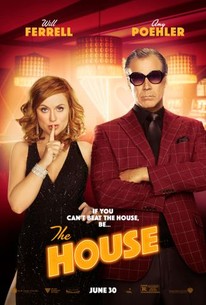 Movie Info
Andrew J. Cohen directs this romp about a mother and father (Will Ferrell and Amy Poehler) who blow their daughter's college fund and start an illegal casino in their basement to recoup the losses.
News & Interviews for The House
Critic Reviews for The House
Audience Reviews for The House
½
A typical Will Ferrell comedy, A few cheap laughs and abit of gross humour thrown in for the hell of it and it ends up being an ok film but never pushes itself enough to be great, The story is predictable and can be pretty dull in it's down times but as soon as the main story kicks in it becomes pretty entertaining, It doesn't try anything new and it never felt like it wanted to but it was funny in parts just not enough to be called a good comedy film.
Jamie Clarke
Super Reviewer
It's a sad day when one of your comedic icons who you grew up watching seemingly puts the nail in their proverbial comedy coffin, but that seems to be where we're at with Will Ferrel's career. Ferrell needs another Adam McKay collaboration and stat. After a rather stale streak post Anchorman 2 (which I loved) that has included Get Hard, Daddy's Home, and Zoolander 2 I was personally hoping for something of a turn in what would be Ferrell's first R-rated comedy since Get Hard which also happens to be the directorial debut of Andrew Jay Cohen who has written or co-written the screenplays for both Neighbors films as well as last summer's rather surprising Mike and Dave Need Wedding Dates. Needless to say, Cohen and writing partner Brendan O'Brien have crafted a premise that is a perfect jumping off point for a Will Ferrell comedy, but it's pretty clear from the get-go that this is going to be one of those comedies that falls into the cheaper-feeling, amateur hour-type category. The House was never going to reach the intelligence levels of Ferrell's work with McKay, but it isn't able to even touch something like Blades of Glory which too felt cheap, no doubt, but was so consistently outrageous that it held itself up. Rather, The House is a movie that would have been a hotly-anticipated comedy five to eight years ago as it is the first time Ferrell has been paired with the ever-endearing Amy Poehler, but as things stand today there are seemingly no other marquee movie stars left besides *maybe* Kevin Hart, but even he has to be in the right vehicle for the box office to reward him. Ferrell is the last of a nearly dead breed and you can see the wear on his exterior as he sleepwalks his way through The House. It's not only a little sad to behold, but disappointing in that I've previously always looked forward to a Will Ferrell comedy and even if no one else in the world might understand why-I was still excited for The House in hopes that Cohen might offer a new voice in the comedy world, someone who was hungry to jump start what has felt like an unusually stale output from the likes of Ferrell and his normal co-horts over the past few years, but instead of reinvigorating anything Cohen has made a film that fits snuggly between the letdowns that have been Ferrell's last few films. read the whole review at www.reviewsfromabed.com
Philip Price
Super Reviewer
½
It's got an appealing premise and many funny people attached, so why is The House such a shoulder-shrug of a comedy? Will Ferrell and Amy Poehler open a casino in a sleepy suburb to try and make enough dough to send their daughter to the college of her dreams. Ultimately, it's just too safe and expected. There are plenty of jokes about the couple trying to adopt the mafia thuggery they've seen in popular movies. The set pieces feel underdeveloped and quick to end on strangely violent notes, including a running gag of physical harm coming to one of the daughter's friends. Ferrell and Poehler don't have strong characters to play, so when the scenes go long, as they often do, you feel like they're just throwing whatever improv riffs they can to see what sticks. It gets tedious. The depiction of this reality also leads to difficult questions. They didn't lose their child's college fund through some swindle; they just never saved, always assuming their daughter would earn a scholarship. They also have never heard about student loans, which every person is guaranteed access to. We also don't see the ramifications of Ferrell and Poehler fleecing their neighbors of hundreds of thousands of dollars. Wouldn't that have a deleterious effect on a small suburb? It should at least create more conflict. The movie jumps directly from the parents deciding they will open a casino to having an open casino. It feels like we skipped a whole act of valuable material. How did they hire these people? Where did they get the capital? I think a major mistake was having such a select number of characters. This premise deserved to be an ensemble comedy with each character contributing in some fashion. Jason Mantzoukas (TV's The League) is the funniest resource the film has and I knew at least when he was on screen that I had the best chance for laughter. I may be heartless but I found the daughter to be a simpering, annoying character. What teenager doesn't have or desire an independent life outside his or her parents? She doesn't seem worth all the trouble. The House finished filming around January 2016, which means it's been a long edit to find as much funny as they could with the available footage. I think they either ran out of time or just gave up. Nate's Grade: C-
Nate Zoebl
Super Reviewer
The House Quotes
There are no approved quotes yet for this movie.
Discussion Forum
Discuss The House on our Movie forum!