The Infiltrator
(2016)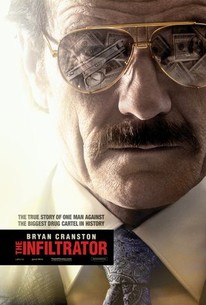 TOMATOMETER
AUDIENCE SCORE
Critic Consensus: The Infiltrator's compelling fact-based story and tremendously talented cast are often just enough to balance out its derivative narrative and occasionally clunky execution.
Movie Info
Based on a true story, U.S. Customs agent ROBERT "BOB" MAZUR (Bryan Cranston) goes deep undercover to infiltrate Pablo Escobar's blood-soaked drug trafficking scene plaguing the nation in 1985 by posing as slick, money-laundering businessman Bob Musella. Teamed with impulsive and streetwise fellow agent EMIR EBREU (John Leguizamo) and rookie agent posing as his fiancé KATHY ERTZ (Diane Kruger), Mazur befriends Escobar's top lieutenant ROBERTO ALCAINO (Benjamin Bratt). Navigating a vicious criminal network in which the slightest slip-up could cost him his life, Mazur risks it all building a case that leads to indictments of 85 drug lords and the corrupt bankers who cleaned their dirty money, along with the collapse of the Bank of Credit and Commerce International, one of the largest money-laundering banks in the world.
News & Interviews for The Infiltrator
Critic Reviews for The Infiltrator
Audience Reviews for The Infiltrator
½
After their collaboration on The Lincoln Lawyer in 2011, Director Brad Furman reunites with Bryan Cranston and John Leguizamo once again. Most of the positivity surrounding that film was slightly overshadowed by Matthew McConaughey's renewed invigoration for dramatic acting (or the start of the McConaussance as it came to be known) while the likes of Cranston and Leguizamo filled in as support. The film itself was a decent enough legal thriller and now with The Infiltrator, Furman explores the other side of the law. Only this time, his fringe players take the central roles. Plot: Alongside partners Emir Abreu (John Leguizamo) and Kathy Ertz (Diane Kruger), Federal agent Bob Mazur (Bryan Cranton) goes deep undercover to infiltrate a drug trafficking organisation that reaches all the way to Columbian drug lord Pablo Escobar. The deeper Bob goes, though, the more danger he puts himself and his family in until he's so deep he's left with no choice but see it through to the end. There's really nothing going on in The Infiltrator that we haven't seen before. It's old but, admittedly, not yet tired ground we're covering here; undercover agent and devoted family man putting his neck on the line to infiltrate some serious criminal players. Needless to say, it affects him personally and any comparisons with Donnie Brasco would be well founded. With Bryan Cranston you'd also be forgiven for having flashbacks to his sublime, star-making work on TV's Breaking Bad. Like I say, we've been here before. That said, there's still much to recommend The Infiltrator. Based on the real-life story of Robert Mazur and working from a script by his mother, Ellen Brown Furman, Brad Furman has an impressive handle on events. He displays some stylish direction and has a keen eye for period detail. Ultimately, though, he keeps an even pace and manages to hold your interest while delivering several thrilling set-pieces. There's also an impressive cast of familiar faces in supporting roles with Leguizamo, in particular, lending fine support. The lesser known but steadily rising Joseph Gilgun (This Is England, Preacher) makes a welcome appearance and it always pleases me to a see very talented low-key actor make some headway in bigger films. He's a chameleon like performer that's thoroughly deserving of more work and one that I've been watching with much anticipation. But, ultimately, there's one thing that shoulders this film and that's the leading man himself. Cranston delivers very strong work and, as always, shows a versatility and a complete command of his character. As touched upon, there are hints of his Walter White and/or Heisenberg from Breaking Bad. It may be a little too close to the bone for some but I welcomed seeing Cranston do it all again. Robert Mazur's real life story is just as tense and exciting as anything that was depicted in Joe Pistone's story as Donnie Brasco but because The Infiltrator has been filmed afterwards, it puts it at a real disadvantage before it's even had a chance. This is a shame really as Furman and his cast rarely put a foot wrong. Unfortunately, comparisons will be made and this happens to arrive a little too late for it to achieve any freshness or originality. It's not genre defining by any means but it's also not a complete right-off either. Despite it succumbing to formula, it still has many stand out scenes and maintains its momentum admirably. Cranston is most impressive and the film is worth it just for him. Mark Walker
Mark Walker
Super Reviewer
A solid cast and performance, delivering a very good dialogue. However, it neither was exciting nor unwatchable. It just plays on with any real enthusiasm from the audience.
Film Crazy
Super Reviewer
½
Bryan Cranston has had a bad track record since the hit shows Breaking Bad, and even Malcom in the Middle. While appearing in nominated films like Trumbo, where he was the only highlight of the entire film, or Godzilla, where he was vastly under-utilized, the actor seems to be picking projects to demonstrate his acting abilities. While that is never a bad thing, the majority of them have been slow-burns, boring the majority of their audience, while simultaneously getting them to rave about how great Cranston was in it. That was my fear when going into his most recent film, The Infiltrator. Is it better than most of his recent outings? Absolutely, but lets dive into why it still suffers in those same ways. It is always interesting to go into a film based on true events. Whether or not you know the real life story or not, the script, the performances, and the facts they choose to include, all factor in to whether or not a film will work solely as a film. There have been many documentaries and films based around the time period of Pablo Escobar (one of the most ruthless leaders of the columbian drug cartel in history). Even though my knowledge of his doings are slim to none, I have always been fascinated with films that try to bring down criminals. Thos is where I felt the film transcends. It sets itself apart from most of them, injecting popular music and a few bits of comedy every now and then. It may seem like I am calling this film entertaining, but that would be a stretch. It is not without its issues. Bogged down by excessive amounts of exposition, The Infiltrator suffers from explaining every future scene in the film, instead of letting it unfold to surprise its audience. While there are quite a few exciting moments, they are spread out far too much, leaving some viewers bored as they are awaiting another bang. What this film has going for it, is that the substance is very intriguing. The cast is very well assembled and you believe that these are the characters from the 80's. Bryan Cranston elevates every single scenes that he is included in, making up for most of the films down time. The conflict I had while watching this film, is that the script is very smartly written, but I think the screenwriter (Ellen Sue Brown) believed she was writing a bibliography rather than a feature film. Facts were always trumping story. As mentioned above, there are many more facts, rather than a direct story, and that definitely shows when characters names are mentioned throughout the film. The Infiltrator is the type of film that begs for your undivided attention or you will be completely lost. Blurting out many new names in almost every scene, you are expected to remember who these people are in the future, but you may find yourself only remembering the main players, becoming slightly confused as to why they are doing what they are doing in the final act. The climax is great, but you also see it coming from a mile away, due to the fact that the film needs to explain everything that is about to happen. While I believe this is a very strong film, the reasons it is strong also bring it down. I like true stories and biopics as much as the next film lover, but it all comes down to what aspects are chosen to remain in the story. I believe The Infiltrator focusses far too much on the facts, getting lost in its own story. This is definitely an issues, bring my grade for the film down significantly, but the stellar cast, great direction, and smart script all make up for that. In the end, this film may lose viewers as it progresses, but I found myself getting back into it throughout the film. Yes, it does lose its steam every now and then, but it can be forgiven. At two hours and seven minutes, I believe about 10-20 could have been shaved off. Overall, The Infiltrator is a solid film nonetheless, and I would recommend it to an older audience who enjoy a good biopic.
The Infiltrator Quotes
There are no approved quotes yet for this movie.
Discussion Forum
Discuss The Infiltrator on our Movie forum!