The Internet's Own Boy: The Story of Aaron Swartz
(2014)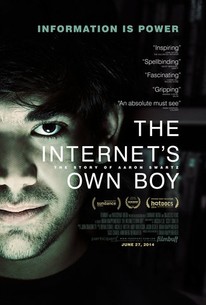 TOMATOMETER
AUDIENCE SCORE
Critic Consensus: Informative and enraging in equal measure, The Internet's Own Boy: The Story of Aaron Swartz uses its subject's tragic tale to deliver an impassioned call to action.
The Internet's Own Boy: The Story of Aaron Swartz Videos
The Internet's Own Boy: The Story of Aaron Swartz Photos
Movie Info
The story of programming prodigy and information activist Aaron Swartz. From Swartz's help in the development of the basic internet protocol RSS to his co-founding of Reddit, his fingerprints are all over the internet. But it was Swartz's groundbreaking work in social justice and political organizing combined with his aggressive approach to information access that ensnared him in a two year legal nightmare. It was a battle that ended with the taking of his own life at the age of 26. Aaron's story touched a nerve with people far beyond the online communities in which he was a celebrity. This film is a personal story about what we lose when we are tone deaf about technology and its relationship to our civil liberties. (c) FilmBuff Participant
Rating:
R
Genre:
,
Directed By:
Written By:
In Theaters:
On DVD:
Box Office:
$48,911.00
Runtime:
Studio:
News & Interviews for The Internet's Own Boy: The Story of Aaron Swartz
Critic Reviews for The Internet's Own Boy: The Story of Aaron Swartz
Audience Reviews for The Internet's Own Boy: The Story of Aaron Swartz
The Internet's Own Boy, Brian Knappenberger's documentary about the life of Aaron Swartz and what he brought to our technology based modern society, manages to be simultaneously hopeful and optimistic, and absolutely heartbreaking and infuriating. This documentary starts out simple enough, focusing on the rise of Aaron Swartz as we follow the programming prodigy whose influences on the world wide web started at an unbelievable age: by age 14, for example, he had already become a member of the working group that founded RSS. But as the film progresses, things get more and more complicated, not unlike the life of Swartz. The hopeful tale of the young man grows bleak as we follow his attempts to fight against government policies related to the Internet, such as his opposition towards the infamous SOPA act in 2011 and his mass downloading of federal documents from the PACER documents, and the aftermath that followed. It's at this point that the message Knappenberger is trying to convey becomes more apparent, and he presents it in a hard-hitting manner, no matter how one-sided it may be. What Knappenberger, and ultimately Swartz himself, makes apparent about copyright law and creative commons proves just how broken the system, and the way the government has established said system, truly is, all while being rather informative about the subject for viewers without a huge understanding of it all. It's all quite fascinating, and its relevance has never been stronger than in today's age.
Andrew Milito
An inspiring, enraging and extremely sad documentary about this admirable young man whose only crime in this anti-democratic society was to seek knowledge and try to make it accessible to everyone - and his stupid death shows that a lot must be changed/fought for in this corrupted world.
Carlos Magalhães
Super Reviewer
Aaron Swartz stood for a free and democratic Internet. He was guilty of downloading 5 million scholarly texts from the JSTOR database. However since this material wasn't of a sensitive nature, nor did he plan to financially gain from the acquisition, the infraction seems negligible at best. Unfortunately none of the antagonists agreed to appear on camera. If there's a villain here it's the U.S. attorney's office and specially the chief prosecutor in the case, Stephen Heymann. He doesn't fare too well at all. His absence doesn't help him, but it's hard to say whether it would have served him if he had showed up to defend his questionable motives. Even hallowed university MIT comes under fire for its failure to speak up in Aaron's defense despite their supposed commitment to open access. The end result is a one-sided but emotionally compelling view. It will make you angry but it will also make you profoundly sad. You will mourn this young man who, in the aftermath of the events detailed here, ultimately took his own life. fastfilmreviews.com
Mark Hobin
Super Reviewer
The Internet's Own Boy: The Story of Aaron Swartz Quotes
There are no approved quotes yet for this movie.
Discussion Forum
Discuss The Internet's Own Boy: The Story of Aaron Swartz on our Movie forum!