The Miseducation of Cameron Post
(2018)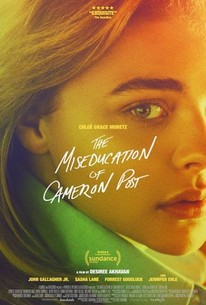 TOMATOMETER
AUDIENCE SCORE
Critic Consensus: The Miseducation of Cameron Post tells its timely coming-of-age story with wit, compassion, and an affecting overall generosity of spirit.
The Miseducation of Cameron Post Videos
The Miseducation of Cameron Post Photos
Movie Info
Cameron Post (Chloë Grace Moretz) looks the part of a perfect high school girl. But after she's caught with another girl in the back seat of a car on prom night, Cameron is quickly shipped off to a conversion therapy center that treats teens "struggling with same-sex attraction." At the facility, Cameron is subjected to outlandish discipline, dubious "de-gaying" methods, and earnest Christian rock songs-but this unusual setting also provides her with an unlikely gay community. For the first time, Cameron connects with peers, and she's able to find her place among fellow outcasts.
News & Interviews for The Miseducation of Cameron Post
Critic Reviews for The Miseducation of Cameron Post
Audience Reviews for The Miseducation of Cameron Post
½
BUT I'M A WORSHIP LEADER - My Review of THE MISEDUCATION OF CAMERON POST (2 1/2 Stars) The winner of the 2018 Sundance Film Festival Grand Jury Prize, THE MISEDUCATION OF CAMERON POST, clearly indicates to me that altitude sickness is real up in Park City, Utah. How else to explain the prize going to a film as wan as this one? While I appreciate the serious approach to the difficult subject matter of Gay Conversion Therapy, I'd much prefer to watch its goofier predecessor again, 1999's flawed but adorable BUT I'M A CHEERLEADER, than sit through this joyless slog. Director Desiree Akhavan, who made her feature debut with the terrific APPROPRIATE BEHAVIOR, along with co-writer Cecilia Frugiuele, tells the story of Cameron (Chloë Grace Moretz), a young teen who in 1993 gets caught making out with her best female friend in the back seat of a car and is sent off to a Christian Camp called God's Promise. The goal is to squelch her "struggle with same sex attraction". Run by the camp's version of Nurse Ratched, Lydia Marsh (Jennifer Ehle), along with her brother Rick (John Gallagher Jr.) who is her number one ex-gay success story, the camp uses prayer, group therapy, shame and deprivation to change a person's sexual orientation. It's ugly stuff and all conveyed with stern, hushed smiles and strong coercion. Cameron meets the other kids, a glorious who's-who of young actors who have already made their mark in other films and theater, such as Emily Skeggs (FUN HOME) as her roommate Emily, Forrest Goodluck (THE REVENANT) as Adam, a kid taunted for his long hair, and AMERICAN HONEY'S breakout star, Sasha Lane as Jane, a pot-smoking free spirit. It's a terrific cast, but everyone is directed to deliver as little energy as possible. This is the quietest movie I've ever seen about anything gay! Clearly Akhavan has made a stylistic choice, perhaps to distance herself from the campy tone of CHEERLEADER or most funny gay movies, but we're left with something beautiful but flat and all too precious. Cutting through it, however, is Moretz's performance, which walks a fine line between rebelliousness and respect for her elders. She has self-possession by the truckload and I am loving watching her develop as a world class actor. I found myself dying for her character to lash out at her oppressors, but the film stays grounded, too grounded in my opinion, in reality, which means its truthful yet kind of boring as hell. I acknowledge that people put through the hell of conversion therapy deserve a serious story on the subject, especially considering how the therapy has led to suicides. It's as if Akhavan made the right movie on the subject, which means it can't be too entertaining by nature. It's a tough position to be in when making a film on such a hot button issue. Despite this, I respect this film. I respect its focus on the minute-by-minute experience of these camps, it's consistent tone (despite my wariness with it), and that wonderful, long GRADUATE-esque final shot. I thought Gallagher Jr. did a fantastic job with his tricky role, especially when Moretz tells him he's making everything up as he goes along. Perhaps the film won over the Sundance jury because of the issue being handled in such an adult manner. But dear God, even oppressed teens have a little more spark in them that this!
Glenn Gaylord
Super Reviewer
The Miseducation of Cameron Post Quotes
There are no approved quotes yet for this movie.