The Nameless (Los sin nombre)
(2005)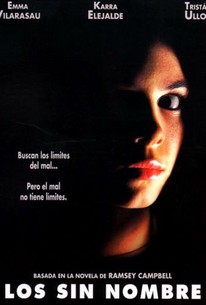 The Nameless (Los sin nombre) Photos
Movie Info
Spanish director Jaime Balaguero brings us this jet-black horror thriller. Claudia (Emma Vilarasau) and Marc's beloved six-year-old daughter Angela dies under mysterious circumstances. Flash forward five years, and Marc has left while Claudia wiles away her time watching family videos of happier times. Angela suddenly inexplicably calls saying, "They wanted you to believe I was dead." Claudia immediately calls an ex-cop, Massera (Karra Elejalde), to investigate the matter. To make matters worse, Claudia finds herself stalked by psychotic ex-boyfriend Toni, who simply radiates evil. As the movie progresses, Massera and Quiroga (Tristan Ulloa), a journalist who works for a magazine specializing in the occult, uncover a bizarre sadistic cult that sacrifices children.
Critic Reviews for The Nameless (Los sin nombre)
Audience Reviews for The Nameless (Los sin nombre)
I've got a name for it: Shit Sanduche. At least most people have recognized that just because it's in Spanish doesn't make it superior to similar American slag. Desperately dull most of the time with an epically anemic confrontation payoff. In other words, or rather, I only need to use one - avoid. One star because the directing isn't terrible and the acting from the leads is fairly competent.
Doctor Strangeblog
Super Reviewer
This film is mostly atmosphere. The wonderfully drained colour palette, the low lighting, the sudden jumps of sound. It's a depressing film that aims for true evil. The plot however is less intriguing than the conclusion. It a basic horror/thriller where somebody and a couple of (new) friends try to unravel a mystery. They go to all the usual experts priest, editor, crazy, who give them long and rambling, but always concise, pieces of information. It's a great film to look at, but after a while you realise you've seen it before.
Luke Baldock
Super Reviewer
Directed by: Jaume Balaguero. Starring: Emma Vilarasau, Karra Elejalde, Tristan Ulloa. Lucky review number one..... I had never heard of this film before I saw it in the video store, as I have grown more passionate for films, I have explored films from other countries and found many outstanding ones....horror is something that I feel I know alot about, the elements that should be used, what cheap effects shouldn't and I have only ever found real horror either in horror movies from the 70's and 80's or from foreign countries. I found Japanese horror to be amazing, with The Eye, The Eye 2 and A Tale of Two Sisters becoming some of my favourites, so I automatically went to the foreign section in the video store to find something new and stumbled across this, it had some great critical respect on the cover, it sounded very intriguing and it was a spanish film, which more recently I have found some excellent films from spanish speaking countries so I decided to hire it.....and didn't come out satisfied. The film follows a mother, her daughter is brutally murdered and it is unknown to how she came to be killed, she suffers alot over the next few years, breaks up with her husband, goes home at night and watches old home movies.....until one day, 5 years after her murder, she receives a call from her daughter saying 'Mummy, its me, come and get me'. The films premise is very intriguing, the film starts slowly and develops the main character, then the mystery starts to kick in and many themes are covered such as religion, nazi's, angels etc......and from there it goes completely downhill. The film, to me felt very imcomplete and it aimed for being original and intelligent and never hits it, instead it comes out extremely dull, confusing and silly. It introduces you to all these interesting themes, but never follows through with them, the film creates its own silly twists that doesn't make a shread of sense. The director did an absolutely outstanding job at creating some of the slowest and most spine-tingling tension I have seen in a long time, yet it is never followed up with anything, the pacing is completely thrown off with bad editing and the addition of random images, as if that was what the director thought would be scary to the viewers. The cinematography is thick, atmospheric and adds another layer to the amazing tension, but as mentioned before, it just leads to nowhere and we are left completely unsatisfied....and not to mention the sudden ending that leaves way to many unanswered questions. I'm glad that I broaden my horizons on films, especially with the shit hollywood makes nowadays, this film is better then most of those horrors, especially in the cinematography and the amazing tension, but everything else is completely disappointing.
Craig Sutcliffe
Super Reviewer
The Nameless (Los sin nombre) Quotes
There are no approved quotes yet for this movie.