The Patrol
(2013)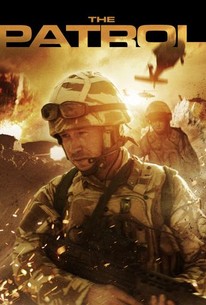 Movie Info
Written and directed by Tom Petch, ex-Army, The Patrol takes a piercing look at the conflict in Afghanistan through the eyes of a British Army patrol who, alongside the Afghan Army, are fighting the Taliban, an invisible, deadly enemy. When a Special Forces Operation prompts a Taliban counter attack in Helmand Province the unit's three day patrol hits double figures. Faced with low ammunition, injury and rising tensions under the command of a captain who is out of touch with his men, the exhausted, disillusioned soldiers question their role in the war.(c) Official Site
Critic Reviews for The Patrol
Audience Reviews for The Patrol
½
Good war that is a bit too short, The Patrol manages to be quite effective in its short run with some pretty good performances, tense war scenes and good drama. I enjoyed the film for what it was, but it could also have been longer as we never do see any British war films, and personally I feel that we need a lot more because, they have some interesting topics to tell on film, especially when it comes to war films. The cast do a fine job here and each actor brings something unique to the screen, and the characters are quite interesting. The film has some riveting moments, with a good dose of drama and it shows the toll of war on the soldiers serving. The film isn't perfect, but it's quite a good war film for what it tries to do, and if you enjoy a war film with well written characters, good action scenes and tense drama, then this film is worth seeing. War films are often hard to pull off, but with The Patrol, even if it's not perfect, it shows what warfare is like, and makes the viewer appreciate what soldiers do. There are better war films out there, but The Patrol is a good effort that deserves to be seen for its tense war scenes, good performances and riveting direction. The Patrol delivers a good hour and a half of tense storytelling and effective action to delight genre fans, and thought it doesn't break new ground, it's one of the better war pictures to come out in quite some time.
The Patrol Quotes
There are no approved quotes yet for this movie.
Discussion Forum
Discuss The Patrol on our Movie forum!