The Pirates
(2014)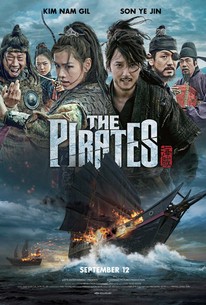 Movie Info
On the eve of the founding of the Joseon Dynasty, a whale swallows the Emperor's Seal of State being brought to Joseon by envoys from China. With a big reward on whoever brings back the royal seal, mountain bandits led by Jang Sa-jung go out to sea to hunt down the whale. But he soon clashes with Yeo-wol, a female captain of pirates. (c) Well Go
Critic Reviews for The Pirates
Audience Reviews for The Pirates
It wouldn't surprise me to find out that this movie was more entertaining than the 3 sequels to Pirates of the Caribbean. I only saw the first sequel which I, somehow, gave a positive review. I was really down on it at the time though and I doubt that it's the kind of movie that has aged well in the ensuing decade. I've seen parts of At World's End and it was convoluted. Didn't see that last one with Penelope Cruz and, honestly, have no real interest to watch it either. But yea, this review is not about that series. This movie is quite entertaining. I thought the film, with its wide cast of characters, and all its developments was relatively easy to follow. Whale swallows royal seal. Bandits and pirates face off against each other in the search for it. Of course, there's some obvious character stuff done here, but the main arc is pretty simple to follow. I point that out, and I don't mean in the case of their comedies, but some Korean films with a lot of characters have convoluted storytelling that makes no sense and makes following and trying to keep track of it is absolutely pointless. But since this is an comedy/action/adventure film, then at least they did the right thing at not overly complicating the story to the point you wouldn't care. The characters are likable and there's plenty of funny moments in the film. Most of these come from Yoo Hae-jin, probably one of South Korea's better comedic actors, in trying to explain to the bandits what fish are and how big the whale is. But the entire group of bandits is goofy, silly, and, most importantly, fun. And that's a word that you can use to describe the entire movie with really. It has its serious moments, of course, but it's never, to me, melodramatic or sentimental, well outside of a couple of scenes. But the film is 85% comedy vs 15% everything else and I think that's about as good a balance as you could ask for with this type of movie. Because that means, for as long as the movie is, and it's not even really THAT long, that this is over in a flash. The pacing of this film is excellent. The movie itself may not be great, but at least it's one that won't overstay its welcome. The action didn't really do that much for me, though there's some cool set pieces here and there. It's really all about the character interaction for me, at least in this case. The acting is perfectly solid, but there's no real depth to any of the characters honestly. This was to be expected in this type of film with a bunch of characters and limited time to tell this story, so it is what it is. They chose to tell the story that way and it probably worked as best as it was ever going to be. The special effects are a bit of a mixed bag, some of it looks great, other times it looks terrible. Like whenever the characters would swing on a rope and it would look like the image behind the actors was moving while they stood still holding a rope. In other scenes, particularly the open sea stuff, it looked quite good. Nothing extravagant, but good enough. So yea, this is a fun little popcorn film. You don't have to go out of your way to see this, but it is a fairly entertaining. Much better than the last Transformers movie.
Jesse Ortega
Super Reviewer
The Pirates Quotes
There are no approved quotes yet for this movie.
Discussion Forum
Discuss The Pirates on our Movie forum!