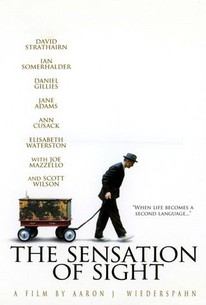 The Sensation of Sight
2006, Drama, 2h 14m
6 Reviews
250+ Ratings
Where to watch
Rent/buy
Rent/buy
Rent/buy
Rate And Review
The Sensation of Sight Photos
Movie Info
An English teacher sells encyclopedias while he searches for the meaning of life.
Audience Reviews for The Sensation of Sight
The Sensation of Sight was a moody film that reminded this viewer of a really good lasagna. Several layers of ingredients come together in a complex melding that yields one delicious dish! David Strathairn plays Finn, the English teacher who seems to have retired from his life in order to make sense of what was a senseless tragedy because of the enormous guilt he carries around. Revolving around him is a marvelous cast of characters who are all struggling with finding a vital connection with other damaged souls. The way the story unfolds kept the viewer engaged, even when some of the characters proved to be quite annoying. Of special note, Elisabeth Waterston (daughter of Sam) is terrific as the young woman caught between her stubborn, grieving father and her ne'r-do-well brother and who tries to bridge the gap between them with little success. Jane Adams brings such raw emotional fragility to her character that one just aches for her. Even the two young kids who are integral to the story prove to be equal to their task. The location scenery, in and around Peterborough, NH lend an authenticity to the film, and provide a lovely backdrop to the story. But ultimately, it is the story, its utter simplicity and genuine exploration of complex human emotions that will keep the viewer engaged. First time writer-director, Aaron Wiederspahn, has crafted one beautiful film with real people showing real emotions and dealing with real issues of life and death and guilt.

I ordered it cause Ian Somerhalder was in it. I?d say its an artsy fartsy movie but the narration at the end had a good point. (at least of what I heard) something like That ?Through life is where/how you get the sensation of sight.? I was kinda bored in parts, then be interested. (this happened throughout the movie) the movie is 2 hrs & 14 minutes. The movie is basically a teacher that was traumatized by the death of a student...quits & is trying to cope/get over it he?s trying to get back to living life but its not much of one. It was more interesting toward the end I tink) C (not sure whether I liked it or disliked it)

Excellent movie, I actually find it pretty hard to review this movie since it is quite an unorthodox movie and I really don't think that this is the type movie that you can review, but I will try to the best of my "abilities" :P. One problem I had was that sometimes the movie didn't really know where it was going and it doesn't really have a straightforward plot, you start to figure out the plot around the first hour or so of the movie and I had a problem with that but it's not a big complaint since it wasn't anything that really detracted from the movie. What I CAN say about the movie is that it had some excellent character development and writing, the material there was excellent. As I said excellent movie and I highly recommend it if you can find it since it's going to be one of those films that's going to be hard to find, but it's well worth the money once you find it.
See Details