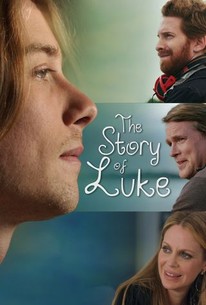 The Story of Luke
2012, Comedy/Drama, 1h 35m
6 Reviews
500+ Ratings
Where to watch
Rent/buy
Rent/buy
Rate And Review
Movie Info
After his grandmother dies, an autistic young man (Lou Taylor Pucci) is forced to adjust to life in the outside world.
Audience Reviews for The Story of Luke
I've always found Lou Taylor Pucci, other than always reminding me of a young Johnny Depp, has been an incredibly underrated actor throughout the years. I don't think he's ever gonna win any prestigious acting awards, though it wouldn't surprise me if he did, and he's unlikely to be the next big box office draw after Will Smith, but I find that he's immensely talented and he has a quiet presence about him, where he's obviously not as imposing, or as big, as The Rock, but he's got something that draws you to him in films. With that out of the way, this might have too much of a feel-good indie quirk vibe, I found the film to be really good with very good performances, a smart script that doesn't insult those with autism, but instead celebrates it in an encouraging and uplifting way, sort of like 50/50 did with cancer. When I celebrate it, I don't mean it in a 'hooray for autism' kind of way. It just celebrates the positive influences it can have in peoples' lives and that its not really something to be afraid, or ashamed, of. The film does poke fun at Luke's interpretation of what people tell him and how literally he absolutely takes everything that is told to him. The story is also kind of a effective because it touches on universal themes, just seen through the eyes of someone with autism. The search for independence, love, and acceptance are all touched on. Of course, autism plays a huge part on Luke's search for all of these things, but it's not done in a heavy-handed way. That's what I was fearing most before I started watching this film. Thankfully, those fears were unfounded. The film is quite funny, but it is never laugh out loud funny, which wasn't its intention. The film blends the drama with the comedy very effectively, and one doesn't undercut the under. The acting was very good, with Lou Taylor Pucci clearly stealing the show with his mannerisms, his tone of voice, and his body language all being spot on. This review has petered out, all of a sudden. The directing/cinematography itself isn't out of this world. You can very clearly see that this film didn't have the biggest budget. Not that it needed it with the script and the immensely talented cast to help make up for that. Damn good movie, certainly an uplifting and feel-good film for those with autism, and those who help take care of them. Flawed film, but ultimately it's a very rewarding and enjoyable experience.

This year hasn't been a good year for comedies with the likes of Scary Movie 5, Movie 43, A Haunted House, and InAPPropriate Comedy failing to garner even a chuckle. The Story of Luke while nothing original the execution brings the best elements of the script to life with a cast that balances the dynamic in the characters. The Story of Luke is about Luke, a young man with autism, who is thrust into a world that doesn't expect anything from him. The story is old fashioned with the humor coming from the interaction from the protagonist in his situations. Luke has an interesting dynamic where his disorder remains consistent to the plot. It's not solely used as a plot device and becomes a characteristic of Luke. The humor is not haha funny, but when it makes a joke it delivers. It plays more the dramatic side dealing with themes of death, acceptance, and moving on. These dramatic elements are well woven into the plot where you feel invested towards what is happening. The dramatic elements while serious allow room for jokes that don't be feel force. The plot tends to rely on Luke and the people around him telling him what to do. Some of Luke goals are realistic and some plot points are introduce only to return when the plot needs them too. What it might lack in originality it satisfies with an effective balance of both comedy and drama. Star Lou Taylor Pucci is an embodiment of his role. Not only does find a tight tuned balance between the agitation and kindness of his character, but also respectfully portrays with autism disorder accurately. Being able to laugh with Taylor Pucci in his comedic situations because of how more lighthearted his take is. Seth Green in a surprising supporting role makes for an equally funny supporting actor. He plays his at times rude character with a good spirit. His scenes with Taylor Pucci can make for ones that are both touching and humorous. Green is allow more capabilities making a fun contrast towards Taylor Pucci characteristic. The supporting cast do fine in their roles. Each cast member is given their own specific scene to shine whether it's Cary Elwes lack of idea of how help one of his kids or Kristin Bauer van Straten opening up. The direction works creating a tone that never gears too much on direction and pacing that never feels like a scene is dragged. The Story of Luke is wholesome comedy that is more a lighthearted take on autism while being sincere and not using the disease as a plot device. With a strong lead in Lou Taylor Pucci embodying his character both comically and dramatically carries it flawlessly. The Story of Luke is a film that is more than deserving of a bigger audience in a year filled with notable bad comedies The Story of Luke is one very good standout.
See Details