The Swimsuit Issue
(2008)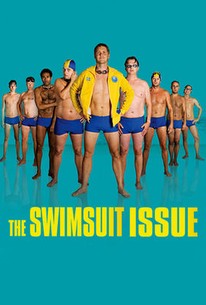 AUDIENCE SCORE
Critic Consensus: No consensus yet.
The Swimsuit Issue Photos
Critic Reviews for The Swimsuit Issue
All Critics (4) | Top Critics (2) | Fresh (4) | Rotten (0)
[It does] justice to this oft-mocked sport as an oasis of uncommon buoyancy under extraordinary pressure.
Low-key and gently touches on issues not usually found in sports comedies: hard times, fragmented families, reverse discrimination.
The pool routines are a good excuse for a great deal of funny business but the writers struggle to flesh out the subsidiary characters.
Audience Reviews for The Swimsuit Issue
I thought this movie was fun. Predictable and sometimes formulaic but at least it was fun and it had likable characters. It also deals with a 'sport' that you don't normally get to see portrayed in movies and it does a good job at not making it look dumb or like anyone could do it, so it's obvious that whoever wrote this film had a lot of respect for synchronized swimming, because others wouldn't have cared and just tried to be entertaining so props to whoever wrote the movie. One thing I didn't like was how they tried to portray this all-male synchronized team as something so out of left field that a woman wouldn't let them use her pool to practice just because they were male. Is it really THAT big of a deal for an all male group synchronizing team? Quite frankly I don't really I know anybody who would really care that much about it to try and put a stop to it because it's only for women or whatnot. So I have NO idea why they made such a big issue of it here. It's cool to have that sort of reversed gender discrimination thing, to show that it can go both ways, but this wasn't the type of thing that, at least in my opinion, would lead to that. Especially since they don't even touch on it once they find a place to train. It was completely out of place. But still the movie is pretty fun, even with the unnecessary social commentary.
Jesse Ortega
Super Reviewer
The Swimsuit Issue Quotes
There are no approved quotes yet for this movie.