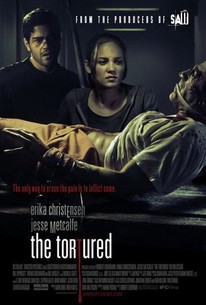 The Tortured
2010, Mystery & thriller, 1h 19m
19 Reviews
1,000+ Ratings
Where to watch
Rent/buy
Rent/buy
Rate And Review
Movie Info
A couple (Erika Christensen, Jesse Metcalfe) hatch a twisted plan to take revenge on the man (Bill Moseley) who killed their son.
News & Interviews for The Tortured
Audience Reviews for The Tortured
A wretched, hyper-edited, hysterical mess, put together in such a way that every artifice jumps out of the screen.

Director Robert Lieberman crafts a torture porn revenge flick that has some sketchy but at times pretty decent performances. As far as the film is concerned, it's a decent low-budget horror outing that could have been so much better than what it turned out to be. There is so many ways that they could have made a powerful revenge horror film with these ingredients, however there's something not quite right with the way the film was executed. If the film's script could have been rewritten a bit, and its structure been refined, then you'd have a compelling and memorable horror yarn. What you have here is a film that doesn't take enough risks, while trying g to shock as much as it can. Considering the film's premise, you'd expect something exciting, thrilling and ultimately unforgettable. The Tortured in the end is just like every other Torture Porn horror film out there. Although the film's idea is very good and interesting, there's no real pay off in the end. Overall this is a decent and at times entertaining film, but it leaves a lot to be desired out of its plot. The film doesn't do anything different or refreshing in this genre of horror, and it's clear to see that this genre has run out of ideas. If you want a great revenge flick similar to this one, but that is not a horror film, watch Law Abiding Citizen. However in the end, The Tortured is a film that is just worth seeing once, and doesn't necessitate multiple viewings.

two parents loose a child to a murderer, he gets a light sentence, so they kidnapp him and torture him, hopefully not killing him, for more pain, uinfortunatly a interesting premise, falls a bit flat, i dident get a sence of there pain even though it was depicted they lost a kid, a short running time and sudden ending dident help either, and a revelation of sorts towards end points to something greater that dident happen, a missed oportunity

Compared to films such as "Saw" and "Hostel" as it is, this one is a hard film to judge. The acting from the off wasn't great and the immediate reaction here is that it's a film with pretty people in it. As the story unfolds, it really questions all parents out there, what would they do in this situation and where would you draw the line? Graphic in it's torture, it's not a film for everyone, the torture itself is pretty realistic. Like the twist though - didn't see it coming.
See Details