The Wedding Video
(2014)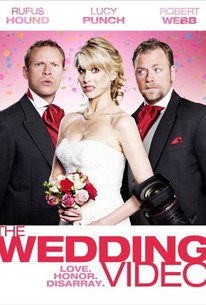 Movie Info
THE WEDDING VIDEO is an uproariously funny comedy about every bride and groom's special day. When Raif (Rufus Hound) is asked to be the best man at his brother Tim's (Robert Webb) high society British wedding, he decides to make a no-holds-barred documentary of everything that happens leading up to the big day and give it as a gift to the happy couple. As the moment of matrimony approaches, nothing seems to be going according to plan, leaving the bride (Lucy Punch) and groom to wonder: "Whose wedding is this anyway?" Filled with a colorful and hilarious cast of characters, this is one wedding you won't soon forget! (C) Level 33
News & Interviews for The Wedding Video
Critic Reviews for The Wedding Video
Audience Reviews for The Wedding Video
½
About as hit-and-miss and inconsistent as a rom-com can be to be quite honest. There are some definite truths about the film as a whole about how sometimes the people themselves getting married aren't even sure if they're doing it for the right reasons, people making decisions for the couple that they have absolutely little to no input on. Of course it does so in a way that is silly and sitcom-y, but there's some good themes at its core here. Perhaps they're not as explored as well as they could be considering that the movie was meant to be light, breezy and easy to watch as opposed to making you think about the institution of marriage as a whole. But, as I mentioned, the film isn't exactly the most consistent of comedies. Like there's some bits that are great, and a lot of them involve Jenna, the wedding planner, and there's others that just fall flat on their face. For example the whole bit with the priest who always laughs at his own jokes. It works the first time, but it's not like tears are coming out of your eyes. You think that's cute and you move on from it. It's not like they beat it dead by doing the same joke, say, 8 times in the film. But they do it enough that it's, obviously, the law of diminishing returns and it's not nearly as funny. Hell, after the first one, I wouldn't have called them funny at all. It just seems too forced and contrived really. It's not really the only part of the films that comes across this way. With films whose comedic stylings resemble more sitcom-y type antics, as opposed to borrowing influence from the classics or more dialogue-driven films, that contrivance is somewhat inevitable. That doesn't mean it can't be good when done correctly, however. I don't have a problem with the film relying so much on this as much as I do with the film just not being consistent from beginning to end. There's just some lines that, if I had seen this in a theater, I probably could've heard atoms moving instead of uproarious laughter. The cast, however, is pretty damn good all things considered. Lucy Punch is always great. The one who stole the show, however, would definitely have to be Michelle Gomez who played, as mentioned Jenna the wedding planner. She definitely got the most laughs out of me than anyone else in the entire film. Not that I think the movie is bad, because it's not, it's almost good actually, but if someone could put all of Jenna's scenes into one video and post it on YouTube, then I'd suggest watching that instead of the entire film. That might come across as an insult, but it's really not. It's just that the film is, honestly, an incredibly frustrating mixed bag. At least Jenna's appearances, to me, were always funny. I was never not entertained by Jenna. With that said, while there are parts of the film that are good, the cast, for one, is really quite excellent. The writing, however, is a huge letdown. Talk about peaks and valleys. Still a decent movie overall, but one I wouldn't recommend due to its pronounced inconsistencies.
Jesse Ortega
Super Reviewer
½
I loved it!!! It's one of the funniest movies I've seen in a long, long time. Very well acted and beautifully paced. It is everything a comedy should be! I cried laughing. Lucy Punch is a revelation.
Allie Corbin
Just loved this movie! It' made me laugh out loud... Lucy Punch is hilarious and Rufus and Robert just added that special british humor. Great twist at the end, didn't expect it, but sure did like it!
Felicia B
The Wedding Video Quotes
There are no approved quotes yet for this movie.
Discussion Forum
Discuss The Wedding Video on our Movie forum!