Things to Do in Denver When You're Dead
(1995)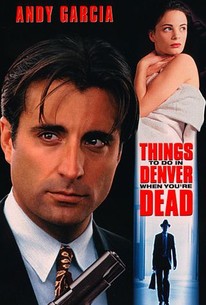 Things to Do in Denver When You're Dead Photos
Movie Info
Ex-gangsters attempting to go straight are confounded by their former boss in this offbeat thriller. The story centers on Jimmy the Saint who has left the underworld to begin an "afterlife advice" video company wherein clients record video testimonies for loved ones before they die. Just as Jimmy thinks things are going his way, and he has finally found the love of his life, his ex-boss calls him in and asks for a little "favor." The crime lord is willing to pay Jimmy plenty to scare the newest lover of his son's ex-girlfriend, and keep him from entering Denver. Jimmy accepts and decides he needs help, so he enlists the aid of former gang members, all very strange characters leading equally strange lives. Unfortunately, the misanthropic gang ends up doing more than merely frightening the man, and they all find themselves on the crime lord's hit list. Jimmy has 48 hours in which to save them and to do right by his new girl.
People Who Like this movie also like
Critic Reviews for Things to Do in Denver When You're Dead
Audience Reviews for Things to Do in Denver When You're Dead
Post Quentin Tarantino and "Reservoir Dogs" there was an influx of stylish and fast-talking crime movies. It became the fad during the 90's and beyond. "True Romance", "Pulp Fiction" and "The Usual Suspects" were another few. Some fell by the way side while others genuinely succeeded and "Things To Do In Denver..." is one of those films that creates a positive, lasting memory. Crime escapades and colourful characters are what this film has in abundance. In order to fund his small business, Jimmy the Saint (Andy Garcia) is in debt to lone sharks. However, his debt is bought over by an old venomous cohort from the past (Christopher Walken) who drags Jimmy back into a life of crime and orders him to scare off the new boyfriend of the ex-fiancée of the boss's simple-minded son and heir. Jimmy assembles a tight-knit crew to keep the job simple but things don't go to plan, leaving him and his friends with contracts on their heads. As the lively and spirited Tom Waits song "Jockey Full of Bourbon" is played overhead we are introduced to our suave, confident, wheeler/dealer protagonist 'Jimmy the Saint' and given an almost instant idea of this films stylish intentions. Like Jimmy, this film moves fast and talks fast. However, this isn't strictly down to him. Where this film succeeds is not just in one particular character or it's particularly cool demeanour. Where it succeeds, is in it's plethora of interesting and delicately written supporting roles and a whole hot of quality actors to embody them. A lot of them get limited screen time but it's still a testament to the writing qualities of Scott Rosenberg who manages to give them enough of a backstory to make them stand out and the actors bring the right amount of presence required for us to invest in them. The real standouts from Jimmy's crew are: Christopher Lloyd's leper - nicknamed 'Pieces' on account of his fingers and toes falling off from a circulatory disease and a completely on-edge Treat Williams as 'Critical Bill' - a psychopath, who can't seem to stop harming people. He even uses funeral parlour corpses as punchbags to relieve his tension. There is also excellent support in Christopher Walken's crippled mob leader 'The Man With The Plan', who's so ruthless, he even threatens to have his henchmen pull out his "dead dick" for Jimmy to suck on. He's a lamentable nasty but one that Walken excels at, and all the more, because he acts only from the neck up. On the sidelines - but no less memorable - is Steve Buscemi's clinical hitman 'Mr. Shhh', who's brought in to despatch of Jimmy and his crew. Buscemi gets the least amount of dialogue and screen time but anyone familiar his role in "The Big Lebowski" will know that this is never a problem for him to still make a lasting impression. At times, there is an elusive nature to the sharply written dialogue and the characters' use of a distinctive vocabulary but it only helps to convey a strong bond and understanding between them. On closer inspection, their patois is explained and the camaraderie and altercations throughout the film are driven by paying as much as attention as it does, to such a vernacular approach. Fast talking dialogue with fast and colourful characters in the fast and dangerous Denver underbelly. This film has the goods to satisfy fans of the crime genre and manages just the right amount of cool that Quentin Tarantino made his name on. An overlooked and thoroughly entertaining addition to the genus. Mark Walker
Mark Walker
Super Reviewer
½
Some memorable lines, and a couple of darkly funny moments. Combine this with some solid performances by Garcia, and Walken, and you still have a movie that isn't too bad...but not great. This movie is a prime example of a casting director filling a film with really good actors, to make up for a rather weak script.
Cynthia S.
Super Reviewer
½
Jimmy The Saint is an ex criminal who is dragged back into the life by wheelchair bound Christopher Walken, but when the job goes wrong he and his crew become the target of a contract killer. One of the many, many attempts to jump on the Tarantino band wagon from the mid nineties, Things To Do In Denver When You're Dead is one of the better copycats. Andy Garcia is maybe a little too smooth and suave to play a killer, but it has enough quirky characters and offbeat violence to entertain. The cast is excellent, particularly Christopher Lloyd as his leperous sidekick, Steve Buscemi as a nerdy hitman and especially Treat Williams as his psychotic muscle. The main problem is that it tries to keep one foot in the mainstream, with overly slick direction from hack Gary Fleder, a pointless love interest and contrived tacked on upbeat ending. However it certainly does have its moments because of the superior supporting cast, and its worth it for treat Williams alone. "I AM GODZILLA!! YOU ARE JAPAN!!!!"
Things to Do in Denver When You're Dead Quotes
| | |
| --- | --- |
| Man With The Plan: | "It's just an action, not a piece of work." |
| Man With The Plan: | It's just an action, not a piece of work. |
| | |
| --- | --- |
| Man With The Plan: | I heard about your endeavor,some support group thing for dying fags. |
| | |
| --- | --- |
| Critical Bill Dooley: | Spongy |
| Critical Bill Dooley: | Spongy. |
| | |
| --- | --- |
| Man With The Plan: | One minute you're saving the rainforest,the next,you're chugging cock. |