This Filthy World
(2006)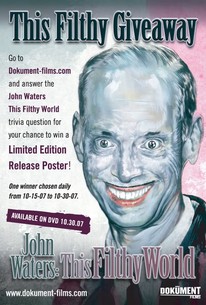 Movie Info
Jeff Garlin's documentary on the work of John Waters.
News & Interviews for This Filthy World
Critic Reviews for This Filthy World
Audience Reviews for This Filthy World
As much as I love the films of John Waters, I love even more hearing the man talk, especially when it's about funny anecdotes he shared with his friends and main cast players. The man is full of wisdom and humor.
Quinto Wallight
Super Reviewer
½
John Waters does a one man show for 90 minutes. What's not to love?
Ken Stachnik
Super Reviewer
½
Unlike the synopsis says, this isn't a doc on Waters, it's Waters live doing some stand-up with some reflection on his movies, inspiration, actors, incidents with censors, hobbies, and just suggesting some things that everyone should be doing, like instead of expensive lobbying, just send some drag queens to a politician's house to make snappy remarks about the wife's fashion sense, or making the Army all-volunteer lesbian because "they'd find Osama Bin-Laden". Waters also has some great anecdotes, like how Divine crawled around in pig shit on an early shoot, how a fan whipped out a fresh bloodied tampon for Waters to sign at a book signing, when Polyester came out, his delight at every film-goer globe-wide interested in sniffing the fart smell on the Odor-Rama cards, and when he screened "Pink Flamingos" for a special group of his pupils (a prison class of convicted murderers) they all responded with "you are seriously fucked up man!". If you like Waters (esp in interviews or chatting about film-stuff) then you must see this.
_kelly .King
Super Reviewer
This Filthy World Quotes
There are no approved quotes yet for this movie.