Thumb Wars: The Phantom Cuticle
(1999)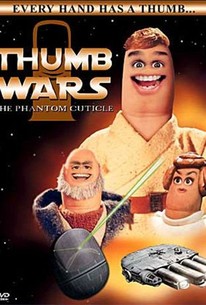 AUDIENCE SCORE
Critic Consensus: No consensus yet.
Thumb Wars: The Phantom Cuticle Photos
Movie Info
The Star Wars saga gets the finger -- well, not exactly a finger, but close -- in this parody in which all the characters are played by costumed human thumbs. Young Loke Groundrunner (voice of Steve Oedekerk) and wise Oobedoob Scobydoob Benubi (voice of Rob Paulsen) are called upon to rescue space monarch Princess Bunhead (voice of Andrea Fears) from the machinations of uber-villian Black Helmut Man (voice of Mark DeCarlo). In order to rescue the princess, Loke and Oobedoob must thrown in their lot with mercenary and pilot-for-hire Hand Duet (voice of Ross Schaefer) and his sidekick Crunchy (voice of Jim Jackman). Thumb Wars: The Phantom Cuticle was directed by Steve Oedekerk, whose credits include Ace Ventura: When Nature Calls and Jimmy Neutron: Boy Genius.
Critic Reviews for Thumb Wars: The Phantom Cuticle
Audience Reviews for Thumb Wars: The Phantom Cuticle
very funny, with a great imagination done by Steve Oedekerk, plus some very good effects and comedy
Michael Edwards
Super Reviewer
Pretty funny. After a while...it's just thumbs. Just thumbs.
Curtis Lilly
Super Reviewer
An awesome tribute to the Star Wars movies. It's mostly "A New Hope" with a few "Empire" scenes thrown in. I wish they could do the entire saga. The little thumb puppets are so cute; it's weird when you first see thumbs with faces on them. Look at Princess Leia's hair and you'll see Cinammon Buns! Ben Kenobi seemd a bit gay in this one. Chewbacca was hilarious. The sets and costumes are detailed. The space effects are good too. Some of the jokes are lame, but most are good. This has become a classic.
Lafe Fredbjornson
Super Reviewer
Thumb Wars: The Phantom Cuticle Quotes
There are no approved quotes yet for this movie.