To Kill A Mockingbird
(1962)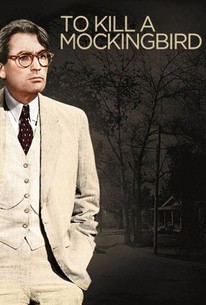 To Kill A Mockingbird Photos
Movie Info
Harper Lee's Pulitzer Prize-winning autobiographical novel was translated to film in 1962 by Horton Foote and the producer/director team of Robert Mulligan and Alan J. Pakula. Set a small Alabama town in the 1930s, the story focuses on scrupulously honest, highly respected lawyer Atticus Finch, magnificently embodied by Gregory Peck. Finch puts his career on the line when he agrees to represent Tom Robinson (Brock Peters), a black man accused of rape. The trial and the events surrounding it are seen through the eyes of Finch's six-year-old daughter Scout (Mary Badham). While Robinson's trial gives the film its momentum, there are plenty of anecdotal occurrences before and after the court date: Scout's ever-strengthening bond with older brother Jem (Philip Alford), her friendship with precocious young Dill Harris (a character based on Lee's childhood chum Truman Capote and played by John Megna), her father's no-nonsense reactions to such life-and-death crises as a rampaging mad dog, and especially Scout's reactions to, and relationship with, Boo Radley (Robert Duvall in his movie debut), the reclusive "village idiot" who turns out to be her salvation when she is attacked by a venomous bigot. To Kill a Mockingbird won Academy Awards for Best Actor (Peck), Best Adapted Screenplay, and Best Art Direction. ~ Hal Erickson, Rovi
News & Interviews for To Kill A Mockingbird
Critic Reviews for To Kill A Mockingbird
Audience Reviews for To Kill A Mockingbird
½
A wonderful yet inevitably condensed adaptation of Harper Lee's sublime novel that, despite harmed a bit by some of the changes, is heartfelt, moving and always true to the soul of her story, with Gregory Peck in a fantastic performance even if a bit stiff in the trial scene.
Carlos Magalhães
Super Reviewer
Phillip Alford and Mary Badham are riveting child actors as Jem and Scout, the naïfs at the center of this somewhat convoluted morality tale. The movie suffers from some old-fashioned weirdnesses like the canned suspense of the shadow creeping towards the children when obviously, the figure casting the shadow (Boo) would be completely visible to them; the canned suspense of when Scout accidentally rolls into the Radleys' yard and Jem and Dill embark on a needlessly elongated rescue attempt with Jem running up to slam the Radleys' front door for no apparent reason; the canned suspense of Boo hiding behind Jem's bedroom door and no one figuring out that he was the one who rescued the kids. So what I'm saying is, there's a lot of hokey canned suspense. The themes of coming-of-age, fatherhood, goodness, tact, humility, fighting against injustice in the face of futility, as espoused by the novel and film are still beautiful, and the entire court sequence with Brock Peters' plaintive testimony, Gregory Peck's masterful closing argument, and Reverend Sykes chastising Scout to stand as her father passes and the entire black congregation rising, are just indelible moments in our cinematic history.
Alice Shen
Super Reviewer
Gregory Peck takes the lead and provides an exceptional performance in this Harper-Lee-novel-adaptation. To Kill a Mockingbird's impecable direction and accuracy in respects to the book are the highlights of what makes this a smooth and striking film. 4/5
Eugene Bernabe
Super Reviewer
To Kill A Mockingbird Quotes
| | |
| --- | --- |
| Atticus Finch: | Heck? Atticus Finch. Someone's been after my children. |
| | |
| --- | --- |
| Jean Louise "Scout" Finch: | Mr Tate was right |
| Jean Louise "Scout" Finch: | Mr Tate was right. |
| Atticus Finch: | What do you mean ? |
| Atticus Finch: | What do you mean? |
| Jean Louise "Scout" Finch: | It would be sort of like shooting a mockingbird, wouldn't it ? |
| | |
| --- | --- |
| Narrator: | Atticus' would be there in Jem's room all night. And he'd be there when Jem waked up in the mornin'. |
| | |
| --- | --- |
| Bob Ewell: | You believe his word agin' ourn? |
Discussion Forum
Discuss To Kill A Mockingbird on our Movie forum!