Tokyo Chorus (Tokyo no kôrasu)
(1931)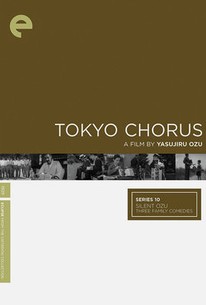 AUDIENCE SCORE
Critic Consensus: No consensus yet.
Movie Info
Tokyo Chorus is a dark comedy about unemployment and family in prewar Japan. The film opens with a group of young men at their school graduation. After saying goodbye to their teacher, they are off into the working world. The story follows a single man and his difficulties at his job. He cannot avoid annoying his boss, a tempestuous man, and he's summarily fired. The remainder of the movie concerns his descent into unemployment and the pressure it puts on his family. In a wonderful scene, his wife discovers that he's sold her kimonos to buy food. She approaches him crying while he's playing with their children and the children draw her into their game which dries her tears. After a series of adventures, he finds another job and calm is restored to the family and their lives. Tokyo Chorus is famous for being the first film where Ozu consistently utilized a low-angle camera. ~ Brian Whitener, Rovi
Critic Reviews for Tokyo Chorus (Tokyo no kôrasu)
All Critics (4) | Fresh (4) | Rotten (0) | DVD (1)
This slice of life film represents a turning point in Ozu's career, as it marks the beginning period of his more mature films.
... Ozu fills the film with deft sight gags, many thanks to the antics of the son, yet there's undercurrent of desperation to the comedy.
Audience Reviews for Tokyo Chorus (Tokyo no kôrasu)
½
Passable, but from the looks of other commentary, I will have to provide a dissenting vote. In this film, Director Yasujiro Ozu tells the story of a married man who loses his job trying to stand up for an older colleague whose been fired. On the positive side, he presents the frustrations of life, but at the same mixes in some levity. There is also a universality to the performance, while at the same time, it's true to Japanese culture, and something that would have broadened Westerners' views of Japan had the film been distributed in the United States (as it is, it wasn't shown in the U.S. until 1982). For me, however, I found the film tedious in its delivery, and too long even at 90 minutes. The best scenes are in the office early on, and the rest feels padded and hasn't aged well. The cute elements are not all that funny and are held by Ozu far too long. The ultimate message of the film - persevering through difficulties, and the importance of sticking with one's friends and family - does not resonate as much as it should because of its mediocre storytelling. Decent, but you can do better.
Antonius Block
Super Reviewer
ozu stubbornly continued making silent films until 1935 but this charming piece feels more modern than many western productions of the period. ozu has a way of observing everyday life that makes his characters feel so familiar and so natural. this gentle comedy follows the difficulties of a family man who loses his job during the depression and must find a way to make ends meet for his wife and 3 young children: very moving and real. the opening scenes reflect the director's love of harold lloyd and buster keaton works. i need to see some more of these altho i wouldn't recommend ozu to everyone: he's kind of...anti-dramatic
Stella Dallas
Super Reviewer
[font=Century Gothic]In "Tokyo Chorus," Shinji Okajima(Tokihiko Okada) is a father of three who works at an insurance company in Tokyo. It is the time of year when the company dispenses its annual bonuses. Knowing this very well, his son(Hideo Sugawara) is asking for a bicycle since all the other kids in the neighborhood have one. Despite the badly slumping economy, the bonus turns out to be larger than expected but Yamada(Takeshi Sakamoto), an older colleague, is fired for some bad luck in selling policies. Feeling this is naturally unfair, Shinji goes into his boss'(Reiko Tani) office to argue his case and is also fired.[/font] [font=Century Gothic][/font] [font=Century Gothic]Directed by Yasujiro Ozu, "Tokyo Chorus" is a delightful, yet bittersweet movie about the tough choices a family man has to make in the working world, especially during a depression. Throughout a movie full of memorable images, it remains clear that people should not be blamed for events outside of their control. It can happen to the best of us.[/font]
Tokyo Chorus (Tokyo no kôrasu) Quotes
There are no approved quotes yet for this movie.