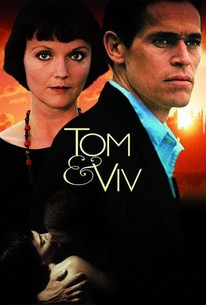 Tom & Viv
1994, Biography, 2h 5m
14 Reviews
1,000+ Ratings
Rate And Review
Movie Info
While studying at Oxford University in 1914, a young T.S. Eliot (Willem Dafoe) meets and is instantly smitten with Vivienne Haigh-Wood (Miranda Richardson). The two elope after a whirlwind romance, and it isn't until then that T.S. Eliot sees the darker side of his wife. Viv suffers from an extreme hormonal imbalance that causes wild mood swings and odd behavior. While she occasionally acts as a muse for the poet, her inconsistent behavior may prove too much for him to bear.
Audience Reviews for Tom & Viv
Sometimes biopics get lost and this is another prime example of one. Eliot's charm on the page is not translated into an interesting character despite the best efforts of Dafoe.

This is a biopic of the life of poet T.S. Eliot (Tom) and Vivian Haigh-Wood, and their lives together. There are just so many things that deter excitement when it comes to this film, though their real relationship was rather bitter and caustic, which usually makes for decent biopics. The events of their lives have been analyzed by countless historians and there are two conflicting stories: one that Haigh-Wood was mentally insane and was sent away to an institution, which has been pretty accepted throughout time, and two, that Haigh-Wood was made insane by a misdiagnosis and sentenced to an asylum for the rest of her life, imprisoned by her husband and to a lesser extent by her brother. The latter is the now proven truth, and makes up the film's structure. Now, watching the actual film, you are not given that impression, because Eliot seems to be sympathized with. Throughout the film we see Haigh-Wood's declining health, her errant behavior, loud outbursts and crude language and actions. Eliot is shown to be soft spoken, reserved, and inclined to finally be part of the literary community, while Haigh-Wood is raucous and seems to be trying to oust her husband. She is supposed to be a free spirit, but that's not how it comes across. Eliot obviously wants to be respected with his poetry, and though he is shown to go to extreme lengths to do it, he doesn't tell Vivian to shut up, to take more medication, or threatens her in any way. The film shows that he plots to stick her away, and freezes her assets, making her a prisoner. This seems strange since he could have just divorced her, and though this may be the truth, it's not presented very clearly. A lot of stuff gets muddled in translation and then it ends abruptly. Even if it were truthful, it wouldn't make any sense, between the subdued murmur of Willem Dafoe and the shrill yells of Miranda Richardson.

An great film. An amazing cast. A tragic love story.
See Details