Trading Places
(1983)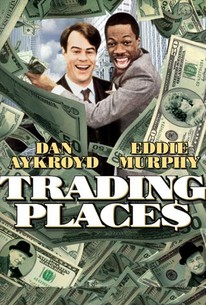 Movie Info
The "nature-nurture" theory that motivated so many Three Stooges comedies is the basis of John Landis's hit comedy. The fabulously wealthy but morally bankrupt Duke brothers (Ralph Bellamy and Don Ameche) make a one-dollar bet over heredity vs. environment. Curious as to what might happen if different lifestyles were reversed, they arrange for impoverished street hustler Billy Ray Valentine (Eddie Murphy) to be placed in the lap of luxury and trained for a cushy career in commodities brokerage. Simultaneously, they set about to reduce aristocratic yuppie Louis Winthorpe III (Dan Aykroyd to poverty and disgrace, hiring a prostitute (Jamie Lee Curtis) to hasten his downfall. When Billy Ray figures out that the brothers intend to dump him back on the streets once their experiment is complete, he seeks out Winthorpe, and together the pauper-turned-prince and prince-turned-pauper plot an uproarious revenge. With the good-hearted prostitute and Winthorpe's faithful butler (Denholm Elliott) as their accomplices, they set about to hit the brothers where it really hurts: in the pocketbook. ~ Hal Erickson, Rovi
News & Interviews for Trading Places
Critic Reviews for Trading Places
Audience Reviews for Trading Places
A classic 80s comedy that's still surprisingly relevant in our day.
Daniel Perry
Super Reviewer
That was amazing. Eddie Murphy killed it. Didn't like Winthorpe though.
Letitia Lew
Super Reviewer
Billy Ray Valentine: Hey that's the motherf- I mean... that's the gentleman that had me busted.  "They're not just getting rich... They're getting even." Trading Places is one of the best comedies of the 80's and maybe ever. It's my personal favorite Eddie Murphy film and probably tied for my favorite Dan Aykroyd and John Landis film(the other of course being The Blues Brothers). What we have here was an instant comedy classic, that is as much fun as it is funny. There's not a moment of wasted screen time. It's smart, it injects a variety of different forms of humor, and it's fast paced and widely entertaining. There's not much more you can ask for from a comedy. This is the cream of the crop.  So, two greedy, manipulative, and corrupt investors make a bet. The bet involves two totally different men. One, Louis Winthorpe runs the Duke brothers investment firm and has made them a lot of money in the process. He comes from a good environment. The other is Billy Ray Valentine, a hustler who makes his money acting like a wounded Vietnam vet. He came from a bad environment. One of the Duke brothers believes that if they throw Louis into the bad environment, he will become a no good thief. He also believes that if they put Valentine into the good environment, he will be able to run the firm just as well as Louis. The other doesn't. It's all part of a fun wager until, Louis and Valentine get wise to it. There's a lot to love about the movie from the great performances from Murphy and Aykroyd to an Oscar nominated score. The versatility showed by Murphy and Aykroyd is what makes their performances so memorable. They both give two different performances within the same movie. Both must act like poor, beaten bums and like wealthy, high class investors. Neither of them waver at any moment and it's pure comedic gold. Ralph Bellamy, Don Ameche, Paul Gleeson, and Jamie Lee Curtis are all very good as well. Trading Places is a must see comedy for all film lovers out there. It's one of those select few comedies that really stands out above the rest for me. It's up there, for me, with movies like Dirty Rotten Scoundrels and Fast Times at Ridgemont High. This is a comedic masterpiece and there's just no other way to describe it. If you haven't seen this before, watch it as soon as possible.
Melvin White
Super Reviewer
Trading Places Quotes
| | |
| --- | --- |
| Billy Ray Valentine: | That's my Harvard tie! Like, oh sure, he went to Harvard! |
| Louis Winthorpe III: | That's my Harvard tie! Like, oh sure, he went to Harvard! |
| | |
| --- | --- |
| Gorilla: | The party's over? It's only ten o'clock! |
| | |
| --- | --- |
| Ophelia: | I'm a whore with a heart of gold. |
| | |
| --- | --- |
| Pawnbroker: | I'm really Bo Diddly. |
Discussion Forum
Discuss Trading Places on our Movie forum!