Train Man: Densha Otoko
(2006)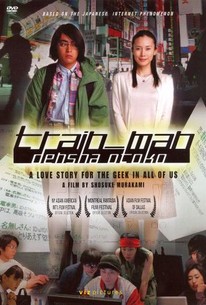 Train Man: Densha Otoko Photos
Movie Info
A socially-challenged otaku (Japanese slang for "geek") saves an attractive female from the unwanted advances of a lecherous salaryman while commuting on the local train route, only to become infatuated with the kind and thankful woman in a romantic comedy that takes its cue from a real-life romantic encounter. Densha Otoko (Takayuki Yamada) may not have much experience with the ladies, but what he lacks in romantic know-how he more than makes up for in gentlemanly instinct. When Densha notices an unruly drunk making a female train passenger (Miki Nakatani) uncomfortable, his snap decision to come to her rescue finds the relieved woman requesting his address so that she may send him a gift for his thoughtful display of kindness. Densha isn't the smoothest operator in town though, and in order to make a good impression he soon begins seeking out the romantic advice of his equally inexperienced internet friends. Now, as Densha strives to improve his social skills in order to win the heart of the woman he has grown to love, his romantic journey will find him realizing that there is much more to life than the heady philosophy behind the Matrix Trilogy.
Critic Reviews for Train Man: Densha Otoko
Audience Reviews for Train Man: Densha Otoko
A fair romantic movie that begins on a train. The best part of the film is the communicating via the web in a chat room about the lead character's exploits and travails, and the interaction he has with his fellow online chatters. I loved the ending when those other online chatters are truly affected by the train man and venture 'outside' their wired world. Charming movie!
A friend recommended I see this movie and I really enjoyed this film. You always want to pull for the underdog and in this case you experience the frustrations of the main character to the point you really want to throw something at the screen. You become lost in his world and in the end you can't help but cheer for him. I highly recommend this movie.
George Kiriyama
Super Reviewer
[font=Century Gothic]In "Train Man," a shy young man(Takayuki Yamada) intervenes to help stop the harassment of women on a train by a drunken businessman. Afterwards, one of the victims, a young woman(Miki Nakatani), sends him a nice set of cups as a thank you gift. He calls her to say thanks and asks her out to dinner, to which she says yes. Buoyed by the advice of his online friends, he undergoes a drastic makeover in preparation for their date...[/font] [font=Century Gothic][/font] [font=Century Gothic]"Train Man" is a sweet romantic movie that is neither vulgar nor condescending. Its central message of getting a life is ironically aimed at people who already have a life in the vibrant world of cyberspace. Granted it may not seem like a terribly attractive one to some, but it is still a valid one, even if most of one's friends are online.(For example, the three gameplayers enjoy playing video games together, so what's wrong with that?) The movie's definition of a successful life is narrowly defined as heterosexual romance. And identifying yourself only by how others see you is quite misguided. But I did like how courage is defined here.[/font]
Train Man: Densha Otoko Quotes
There are no approved quotes yet for this movie.