Trolls
(2016)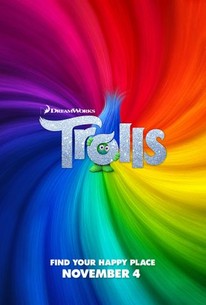 TOMATOMETER
AUDIENCE SCORE
Critic Consensus: Trolls brings its instantly recognizable characters to the big screen in a colorful adventure that, while geared toward the younger set, isn't without rewards for parents.
Movie Info
DreamWorks Animation's TROLLS is an irreverent comedy extravaganza with incredible music! From the genius creators of SHREK, TROLLS stars Anna Kendrick as Poppy, the optimistic leader of the Trolls, and her polar opposite, Branch, played by Justin Timberlake. Together, this unlikely pair of Trolls must embark on an adventure that takes them far beyond the only world they've ever known.
News & Interviews for Trolls
Critic Reviews for Trolls
Audience Reviews for Trolls
½
It's difficult to not feel indifferent about a movie like Trolls. In the end, it's fine. Is it somewhat offensive in terms of originality and cheap covers of gloriously good pop songs? It could certainly be taken that way, but when taking into consideration the target audience for this latest DreamWorks animated adventure it's hard to get too frustrated with the rote story Trolls tolls out or the advantage it takes in remixing recognizable songs into auto-tuned Kidz Bop versions you could have certainly lived without. Of course, Trolls doesn't mean to offend, but rather it simply means to entertain a fairly wide age range of kiddos while at the same time giving over tried and true lessons that deal in being true to one's self to find true happiness. No, Trolls isn't either a good film or a particularly bad one, but more it is simply one that exists to colorfully distract for an hour and a half only to mostly be forgotten the next day. No harm, no foul. Trolls is ultimately something of a mix between DreamWorks own Shrek series as far as character types go while more or less the same story The Smurfs told us as far as being small creatures who live in peace and harmony while having to battle a much larger being who threatens to eat them among other evil things. There wouldn't be anything necessarily wrong with restructuring these archetypes and plotlines were Trolls interested in doing anything fresh or interesting (and when I say interesting I, obviously, mean weirder) with as much as they've given themselves to work with, but by simply slapping a variety of pop covers throughout rather than going full-on musical and ultimately being more harmless than memorable this movie isn't exactly the kind of product a studio wants to put out if they want to retain any type of credibility. Though it really is difficult to say anything downright terrible about Trolls the bottom line is this was a product made to move merchandise and that it actually turned out as competent and sometimes even as fun as it is shouldn't be forgotten. Sure, one could point out the desperate lengths movie studios are now going to in order to cash in on brands given the troll dolls were first popular in the sixties (with a resurgence in the nineties) or one could point to The LEGO Movie as a film based on toys/superfluous junk that actually turned out rather inspired and great, but somewhere in the middle of those truths and thoughts we find Trolls; just happy to have been given enough room to dance and sing and hug. read the whole review at www.reviewsfromabed.com
Philip Price
Super Reviewer
½
Trolls is a neon-tinted explosion of glitter, music and fast-paced humor. It may not be an animated masterpiece but there are some very creative and charming things happening in this film. DreamWorks isn't at the level of challenging Disney or Pixar and they prove it again with their latest, but if Trolls maybe isn't ambitious it's a lot of fun. The animation is lovely to look at. Colorful and tactile with use of felt and scrapbook cutouts, the animation sparkles. The film tells an important if rather basic message about happiness and how it is found within. The first half of the film is delightful with some terrific musical numbers starring Anna Kendrick, however, momentum slows a bit once the trolls hit Bergen Town, and the addition of a sideplot involving a Bergen scullery maid is rather strange, but the film pulls it together near the end. In the film's best scene, resembling Inside Out's Memory Dump scene, Justin Timberlake flexes his vocals in a touching rendition or True Colors and an oddly quiet scene from the typical frenzied DreamWorks' animations. Trolls is a cute story, told well with some good vocal performances and some nice musical numbers. It's loud and frantic at times and it doesn't dig too deep, but it's charming and funny enough to make a pleasant escape from the torturous election season. Rating: 68
Over the years, it has become a point of no return that studios continue to bring properties to life, even if they do not deserve a theatrical run. Trolls is the epitome of a children's toy from the past that had no reason to be in theatres. That being said, this animated film is better than it has any right to be. When it comes to child-based animated films, having little for adults to enjoy, it does become difficult to see through the annoying tropes at times; However, those tropes are used to benefit the story this time around, so I have to commend it for that at least. Here is why Trolls actually turned out to be a nice little one-off. The story surrounding this film is quite simple. Creatures called the Bergens, gather around a tree (the Troll village) once a year in order to feast on them to find happiness in their otherwise dull existence. Finding a way to escape and hide, one Bergen is still able to track them down and take a few. Determined to find her friends before they are devoured, Poppy (Anna Kendrick) and Branch (Justin Timberlake) find themselves on an adventure across the village. Yes, the plot is as thin as it sounds and it is completely directed toward the 3-10 age group, but as a film that is trying to accomplish just that and nothing more, it is completely serviceable. What makes the plot more interesting is the fact that it is mainly told through song. Normally in films like this, they are riddled with popular music in order to sell certain aspects to people who would have no interest in the first place. Popular music sprinkled throughout films are meant to make people feel a certain emotion, but the way it is displayed here is the most clever gimmick ever. Every popular song chosen to play throughout the course of this film serves a purpose toward the overall story and the payoff put a big ol' grin on my face. Sure, there are some musical numbers that are there just for fun, but when the final act has its big moment and life lesson, I can't say anything except for the fact that it works. Making this a musical definitely saved its average story. Of course a Hollywood animated film would be able to attach some big names to voice its characters, but there is something out of the ordinary with Kendrick and Timberlake. They bring so much fun to these characters that I was looking forward to every scene they shared together. Their duets really shine off the screen here and it may even make some people trickle a few tears when their "true colours" are revealed in the final act. I thoroughly believe this film to be far more effective than it had any right to be and kids will surely have a blast with the fun visuals and characters. Filled with fantastically colourful visuals from start to finish, characters more compelling than one may think going in, and a message that is great for all kids, Trolls is a definitely surprisingly better than it should be. That being said, I really believe that the only people to love this film will be younger kids. Its story has just enough to make them think, while also being entertained by the music and visuals. It is predictable from start to finish, even though there is one very effective moment, and it will not be remembered as one of the better animated films as time goes on. As a one-off, sure, I will recommend bringing your kids to this film. I do not see myself revisiting this film anytime soon, but if I happened to catch it on television down the road, it will be a harmless second viewing. For something that I expected to be nothing but slapstick in the same vein as The Smurfs, Trolls is pretty impressive for what it is. A decent little flick for the whole family.
Trolls Quotes
There are no approved quotes yet for this movie.
Discussion Forum
Discuss Trolls on our Movie forum!