Tulpan
(2009)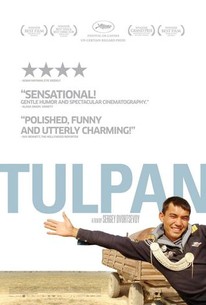 Movie Info
Big ears can be a real problem. Asa, our hero, never thought about it until he considered the idea of marriage.
News & Interviews for Tulpan
Critic Reviews for Tulpan
Audience Reviews for Tulpan
½
Dvortsevoy blurs the line between fiction and reality as he offers us an unforgettable peek at an almost alien universe, displaying a remarkable control of his shaky camera and capturing some incredible fortuitous shots against the barren, ruthless sight of the Kazakhstan steppe.
Carlos Magalhães
Super Reviewer
½
Really good movie, though one that's more on the quieter side, but it's a lovely little movie nonetheless. I think part of the movie's charm is really how simple it is and how that simplicity is used to create a compelling story with a character who's torn between two lifestyles. The cast feels completely natural as well, as if they were a real family. Granted living in a steppe for a month prior to filming will do that to you, but the movie felt like it just captured a slice in the life of this family and doesn't feel like you're watching a movie at all. Apparently the Kazakhstan government thought that this movie was even more degrading than Borat. Of course they are wrong about this. I don't think the movie is out to represent how all Kazakh people live in "poor" conditions. On top of that, the family in the movie is presented as hard-working and loving (with the exception of Asa and Ondas's dislike of each other), yet this representation is more degrading than Borat? If anything it tries its hardest to shed that image. So kudos to this movie for having respect for its story and its characters. I wouldn't recommend this movie to everybody, seeing as Transformers fans will be bored to tears, but I think it's worth seeing.
Jesse Ortega
Super Reviewer
½
An interesting tale of the true Kazakstan..in other words the non Borat version. After being taken with the intriguing people of the Steppe, the film drifts slightly and is inconsistent. Attention span alert for those easily distracted..give it a skip.
John Ballantine
Super Reviewer
Tulpan Quotes
There are no approved quotes yet for this movie.