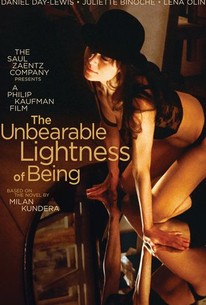 The Unbearable Lightness of Being
1988, Drama, 2h 51m
27 Reviews
10,000+ Ratings
What to know
critics consensus
Exploring sexual mores against the backdrop of real-life social upheaval, The Unbearable Lightness of Being artfully blends the political and the erotic. Read critic reviews
Where to watch
Rent/buy
Rent/buy
Rate And Review
The Unbearable Lightness of Being Photos
Movie Info
Successful surgeon Tomas (Daniel Day-Lewis) leaves Prague for an operation, meets a young photographer named Tereza (Juliette Binoche), and brings her back with him. Tereza is surprised to learn that Tomas is already having an affair with the bohemian Sabina (Lena Olin), but when the Soviet invasion occurs, all three flee to Switzerland. Sabina begins an affair, Tom continues womanizing, and Tereza, disgusted, returns to Czechoslovakia. Realizing his mistake, Tomas decides to chase after her.
News & Interviews for The Unbearable Lightness of Being
Audience Reviews for The Unbearable Lightness of Being
"The Unbearable Lightness of Being" is a based on the 1984 existential novel by Milan Kundera, who despite having an uncredited role as a supervisor, would later go on to denounce the film. He has said that the film bears little resemblance to his novel or the characters in it. Cue to the people who've read Kundera's novel and seen the film to mutter those ever so cliché words, "The book was better than the movie." But it would be entirely unfair to compare a film to a novel since both mediums have their limits and their strengths. Perhaps as a faithful adaptation of the novel, it fails, but as a truly magnificent film, it succeeds. Very few films can deal with sex and fidelity in ways that deal with the human experience while having an anti-Soviet message at the same time. Director Philip Kaufman has had an uneven career, he has been involved in either writing or directing some of the greatest films in the last forty years, he's also been involved in some of the worst. The man who co-wrote the Clint Eastwood film "The Outlaw Josey Wales" and provided the key plotline to Steven Spielberg's "Raiders of the Lost Ark" also directed two of the twenty-five best films of the 1980's in "The Right Stuff" and "The Unbearable Lightness of Being." His style of directing seems very European, but despite that he was born in Chicago, Illinois in 1936, and many of his movies deal with very American ideals such as individualism and integrity. Tomas (Daniel Day-Lewis) is a successful surgeon living in Prague. He is quite the playboy and sleeps with several women. Only one woman understands him though, the free spirited artist Sabina (Lena Olin). Sabina and Tomas are a lot alike, they don't want to be emotionally attached because they feel it would weigh them down. One day Tomas is sent to a spa town for an operation and he meets the kind and sweet Tereza (Juliette Binoche). Tomas and Tereza begin to become romantic with one another and she moves in with him, but this doesn't disrupt his sexual escapades with other women. This may be understood as only a love story, but it's much more than that. There are underlying philosophical and political underlings that bring this film to life. Set in a time when Czechoslovakia had a little more freedom before the Prague Spring when the Soviet Union invaded. These events have consequences for Tomas, Tereza and Sabina, who all leave for a life in Switzerland. Tereza, although, can't stand the lightness for which Tomas takes his life and sex. Everything just seems so heavy for her and she feels that she is a burden for Tomas, who must take care of her. She goes back to Prague realizing that she is disrupting Tomas's freedom. Tomas follows her back, much to her surprise. Tomas is unable to be faithfull and Tereza knows this. What she doesn't understand is how someone can make love without being in love. She tells Tomas she wishes to try it. As a document of the intelligentsia in Prague before the Soviet invasion, it does a good job in portraying some aspects of their lifestyle and the relative freedom they experienced. Tomas isn't exactly political, but he is prompted to write an article condemning the Soviet high command for being unaware and unsympathetic to political purges likening them to Oedipus in Greek mythology. The repercussions of this will cost Tomas his job and his livelihood. The acting is superb, Lewis nails it and has a certain aloofness about him, a distance in human relations that doesn't involve sex. There's no doubt the man isn't intelligent, but Tomas comes off as unsure about love. He can't help that he's fallen in love with Tereza, and he is unsure how to handle it and still conquer all women sexually. Juliette Binoche is so innocent and childlike with her character that it's no wonder Tomas does feel burdened by her at times before realizing he does love her. Both Lewis and Binoche would go on to become two of the better actors in cinema in the next thirty years. The cinematography is absolutely gorgeous, done by the Swedish master Sven Nykvist, whose career highlights include two Academy Awards for Best Cinematography for the Ingmar Bergman films "Cries and Whispers" and "Fanny and Alexander." Nykvist would receive his third Oscar nomination for "The Unbearable Lightness of Being." Kaufman and Jean-Claude Carriere would receive an Oscar nomination for the Screenplay.

The Unbearable Lightness of Being is an unforgettably moving and engrossing drama full of incredible career-making performances. The film traces the love triangle between womanizing Prague surgeon Tomas (Daniel Day-Lewis), naive photographer Tereza (Juliette Binoche), and vivacious artist Sabina (Lena Olin) in Communist Czechoslovakia. Although the film may be slow-paced, it's never boring and absolutely always gripping, thanks to a thoughtful and intelligent script and spectacular acting from all three lead actors. Juliette Binoche is especially great in her breakthrough performance, and her character has a certain child-like innocence and devotion that clashes with Tomas' sexual promiscuity and polygamous tendencies. The Unbearable Lightness of Being is more incredible and moving than you could possibly imagine, and is an absolute must-see movie.

Love, sex, politics, growth - a lot is packed into this movie. I do agree with those who think the film is a little long.

Set in a Tolstoy-esque world the rambling uneven narrative focus' on the the smallest details of the three main characters lives. Kaufman leaves each character as an enigma instead of developing them the audience is left to guess at there back story through the furtherance of the plot. I enjoyed the excess nudity it is a player in the film but never reaches the point of soft core pron (sic). The action of the story makes the 3+ hours float by, but it never reach's a level of being totally engrossing. The break between disc 1 and 2 is very natural and watching disc 1 makes disc 2 a cliff-hanger of sorts.
See Details