Underworld
(2003)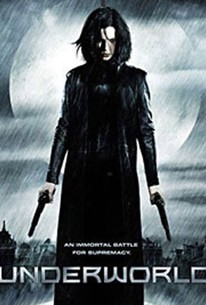 Movie Info
A young man who has pledged his life to helping others finds himself in a pitched battle between two gangs of supernatural villains in this blend of horror story and action thriller. Michael Corvin (Scott Speedman) is a medical student who is heading home after a long day of school and work when he unexpectedly finds himself in the middle of what appears to be a rumble between two well turned-out street gangs. What Michael doesn't know is he has witnessed a skirmish between two deadly underground communities, unknown to the mortal world, who are battling for supremacy -- the Death Dealers, a tribe of vampires, and the Lycans, a band of werewolves. Selene (Kate Beckinsale) is a leading member of the Death Dealers who hears through the grapevine that the Lycans have plans to capture the aspiring doctor who witnessed their battle. Certain something is in the air, Selene begins following Michael around the city, and she finds herself growing emotionally attached to him. As Selene becomes more attracted to Michael, she becomes more convinced that the Lycans are planning a major attack against the Death Dealers, although vampire kingpin Kraven (Shane Brolly) is certain she's crediting the Lycans with more intelligence than they can muster. As Selene shadows Michael, she finds herself wanting to protect him, but her longing becomes a handicap when he's attacked by Lucian (Michael Sheen), the leader of the werewolf community, and the man she wants to save has now become a sworn enemy. Underworld was the first feature film from music video director Len Wiseman. ~ Mark Deming, Rovi
News & Interviews for Underworld
Critic Reviews for Underworld
Audience Reviews for Underworld
I loved this idea, loved it, I love vamp and werewolf movies, brooding, dark, gothic and violent, just for adults, the way it should be, its just a litte too CGI heavy for me. The Lycans are just not believeable and look waaay too plastic which is such a shame, also the ending with the vamp/werewolf hybrid is very flat (a skinny 'Incredible Hulk' springs to mind). The main problem with this is the quite dreadful CGI effects. I realise it would be hard work to create all those werewolves real time but at least make an effort with the computer work guys. The motion capture is really quite awful throughout the film looking more like large rats scampering all over the walls and ceiling. Up close its not much better really with poor facial designs and bad hair work in my personal opinion. Such a contrast to the vampires which do look exquisite facially with their pale skin, piercing eyes and slick hair. Easier to achieve granted but I REALLY wish they had gone more down the road of real time effects for the werewolves. Imagine what this film could of been with 'Werewolf in London' lycan effects! its painful to think what it could of been. I like the fact they tried to do something without CGI with 'Corvin's' hybrid character but its just looks too plain, nothing thrilling a tall plus they just seemed to spray him all black..that's its, nothing more!?. The film still reasonably rocks and comes close to a new 'Crow' style flick (if it had some harder tunes in there). Beckinsale is gorgeous and Nighy is excellent as the skinny gaunt 'Viktor'. Close to greatness but just misses, but because it's vamps and werewolfs I just cant say no hehe. Kudos for handling two major horror franchises together in a face off with relative success, unlike 'AvP'. Its just a shame it does feel too much of a hybrid of other sci-fi/vamp films. 'The Matrix' does stand out to be honest, didn't wanna go there but you have to really.
Phil Hubbs
Super Reviewer
MisterYoda ?
Super Reviewer
Vampires vs. Werewolves, is all you need to know about "Underworld". When his came out, I remember thinking "bout time they made a movie about this!" This is the story of the Death Dealers(vampires) and the Lycons(werewolves) battling it out, trying to get a medical student named Michael(Scott Speedman) who had mistakenly witnessed a battle between what he thought was street gangs. Along the way, Michael falls in love with one of the leading Death Dealers, Selene(Kate Beckinsale). Meanwhile, the leader of the Lycons(Michael Sheen) is planning a major attack against the vampires. While the Dealers Leader, Kraven(Shane Brolly) seems to be hiding some secret, and escalating war ensues. This is kind of like a "Romeo and Juliet" type story, only with monsters instead of humans. The acting and story is what you would expect, just decent. But the effects and action is why you would watch this, and they deliver big. Rated "R", "Underworld" doesn't really hold back on much, and delivers on everything you would hope for. Horror and action fans alike should be pretty satisfied with this movie. If your not a fan of either, then don't watch, you won't like it.
Everett Johnson
Super Reviewer
Underworld Quotes
| | |
| --- | --- |
| Lucian: | I've tasted his flesh. Just two days till the full moon. Soon he will be a lycan. Soon he will come looking for us. |
| | |
| --- | --- |
| Kraven: | Let me tell you a little something about your beloved dark father. He's the one that killed your family. Not the Lycans. He never could follow his own rules. Said he couldn't abide the taste of lifestock. So, every once in a while, he'd go out and gorge himself on human blood. I kept the secrets, and cleaned up the mess. But he's the one who crept room to room that night, dispatching everyone close to your heart. But when he got to you, he just couldn't bear the thought of draining you dry. You, who reminded him so much of his precious Sonja, the daughter he condemned to death. |
| | |
| --- | --- |
| Viktor: | There is a good reason why these rules were created, and they are the only reason we have survived this long! |
Discussion Forum
Discuss Underworld on our Movie forum!