Une Vraie Jeune Fille (A Real Young Girl) (A Real Young Lady)
(2000)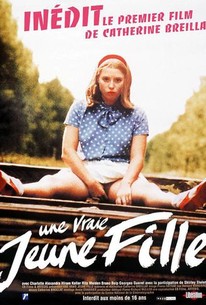 Une Vraie Jeune Fille (A Real Young Girl) (A Real Young Lady) Videos
Une Vraie Jeune Fille (A Real Young Girl) (A Real Young Lady) Photos
Movie Info
Directed by Catherine Breillat in 1975 but withheld from release for 25 years because Breillat's producer went bankrupt, Une Vraie Jeune Fille marked the director's feature debut. Like Breillat's controversial Romance (1999), Fille is concerned with the expression of female desire, and it takes a characteristically audacious approach to its subject. Striking close-ups of male and female genitalia, various bodily fluids, and graphic sexual fantasies make up a significant portion of the film, which charts the sexual awakening of the teenaged Alice (Charlotte Alexandra), who is vacationing with her parents in the country. Bored and restless, Alice spends much of her time lusting after Jim (Hiram Keller), a local sawmill worker. When not lusting after him, Alice fills the hours with such pursuits as writing her name on a mirror with vaginal secretions and wandering the fields with her underwear around her ankles. And, in true teenaged tradition, she spends a lot of time writing in her diary. Une Vraie Jeune Fille was adapted by Breillat from her third novel, 1974's Le soupirail, which she was commissioned to adapt for the screen by noted producer Andre Genoves.
Rating:
NR
Genre:
, ,
Directed By:
Written By:
In Theaters:
On DVD:
Runtime:
Studio:
Wellspring Media Inc.
Critic Reviews for Une Vraie Jeune Fille (A Real Young Girl) (A Real Young Lady)
Audience Reviews for Une Vraie Jeune Fille (A Real Young Girl) (A Real Young Lady)
Catherine Breillat's, the provocative French feminist director, explicit film about the sexual awakening of a girl in her puberty stage in the '70s. A typical equation mark between Sex & Death as which being further explored & more often seen in her later work. An absolute self-indulgence style just like every other work of Breillat.
WS Wu
[font=Century Gothic]In "A Real Young Girl", Alice(Charlotte Alexandra) is a teenager on summer break from school. When she is not laying about fantasizing about various local young men, she is exploring the countryside on her bicycle. She is also lying about the whereabouts of her report card.[/font] [font=Century Gothic][/font] [font=Century Gothic]With "A Real Young Girl", Catherine Breillat makes a provocative and explicit first movie. She brings her unique sensibility to this coming of age tale. The film does tend to seem a bit amateurish, though.[/font]
½
Another one of those European "girl coming to age and feeling sexually curious" movies, done as only the Euros can. Now, if made in America, this movie EASILY gets an NC-17, if not an X. There are several, very explicit scenes involving various forms of masturbation - with worms, with flowers, with a bottle and with a bike seat. It's as if this girl just woke up one morning and said, "Damn. I'm kinda horny." If I was teaching a Sex in Cinema class, this would be one film that I'd screen. Cut out all the standing in front of the mirror and groping her breasts, and the masturbation scenes, and the fantasys of banging the stud at the wood mill, you have about a 30 minute movie. And that's just the girl. Then you've got the husband/father who has this creepy psuedosexual relationship with his daughter. And when he unzips on the ferris wheel at a carnival and shows a girl his dick, you know the MPAA would've had a fun time trying to distinguish between NC-17 and X. As it is, the current version is shown as unrated. On a side note, the main theme is so damn catchy.
Real Guy
Une Vraie Jeune Fille (A Real Young Girl) (A Real Young Lady) Quotes
There are no approved quotes yet for this movie.