Unknown Pleasures
(2003)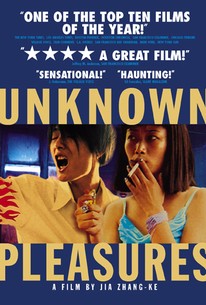 Movie Info
Unknown Pleasures takes place in China, in the small city of Datong, in 2001, where disaffected teenagers look for any kind of excitement to enliven their dreary existence. Bin Bin (Zhao Wei Wei) dates a quiet student, Yuan Yuan (Zhou Qing Feng) who's thinking of going to university in Beijing. They spend their time together holding hands, watching karaoke and Monkey King videos, and despairing for the future. Bin Bin envies the Monkey King his freedom. Bin Bin has quit his job at a local market, but he doesn't tell his mother (Bai Ru). When she finds out, she wants him to join the army. His less circumspect friend, Xiao Ji (Wu Qiong), stalks a flashy performer, Qiao Qiao (Zhao Tao), who promotes Mongolian King liquor and dates a gangster. The gangster doesn't appreciate Xiao Ji's attentions and slaps him around. Qiao Qiao seems to like him, but as free-spirited as she seems, she's afraid to defy her violent boyfriend. Bin Bin tries selling bootleg DVDs on the street to earn a living. One of his customers, a thug named Xiao Wu (Wang Hong Wei) complains that Bin Bin doesn't carry underground titles like Pickpocket and Platform (writer-director Jia Zhang Ke's previous features), but is pleased to find Pulp Fiction. Inspired by the latter film's opening, Bin Bin and Xiao Ji plot an ill-fated bank robbery. Unknown Pleasures showed in competition at the 2002 Cannes Film Festival and was also selected for the 2002 New York Film Festival.
Critic Reviews for Unknown Pleasures
Audience Reviews for Unknown Pleasures
½
I understand what was being done and being said, but in the end it just fails to captivate its viewer. The shots are just too long and the characters are not interesting enough for a two hour movie centered around character development. Shooting this on digital video was a nice choice, but that's about the best thing I can say about this. It was the only sense of realism that worked. The influences of this are bright as day and it's easy to conclude that they are all movies i'd rather have watched instead of this.
Conner Rainwater
Super Reviewer
Meh this movie did nothing for me, I had laughed earlier on in the movie (for the wrong reasons) but other than that this movie is pretty boring. Usually I have it in my to appreciate films like this but I just found nothing to like here. Like what is the plot??? There is no plot, they seem to be heading nowhere, it just concentrated on the 3 people and their experiences which weren't that interesting. This is probably the Seinfield of movies.....without the genius. There are many long, drawn out shots that mean nothing. What was the point in having one scene go like 3 minutes and the only thing happening is one of the characters is trying to get his motorcycle up a hill. There are several scenes like this and most of them felt pointless. I found myself fast forwarding through the last minutes of the movie I couldn't stand it. The director tried to make an artsy film and it just turned out to be fartsy.
Jesse Ortega
Super Reviewer
Unknown Pleasures Quotes
There are no approved quotes yet for this movie.