Unraveled
(2012)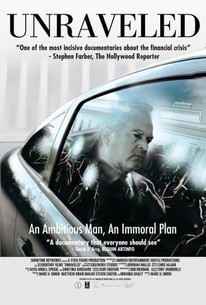 Movie Info
Just days before Bernard Madoff captured headlines as the largest Ponzi schemer in U.S. history, Marc Dreier, a prominent Manhattan attorney, was arrested for orchestrating a massive fraud scheme that netted hundreds of millions of dollars from hedge funds. Brazen forgeries and impersonations branded the white-collar crime spree remarkable. Unraveled is set in the "purgatory" of house arrest -- an upper East Side penthouse -- where the Court has ordered Dreier confined until his sentencing day. -- (C) Official Site
Rating:
NR
Genre:
, ,
Directed By:
Written By:
In Theaters:
Runtime:
Studio:
Critic Reviews for Unraveled
Audience Reviews for Unraveled
½
The financial crisis of 2008 and the ensuing Ponzi scheme unravelings in 2009 make for very compelling stories, lessons, and character studies. In unraveled, director Marc Simon looks at the case of Marc Dreier, whose case seemingly embodies all of the above. Dreier, a supposedly hugely successful New York attorney, was found to have engaged in a $400 million dollar fraud that had him bizarrely impersonating, and hiring others to impersonate for him. While an interesting premise, Simon fails to really seize the opportunity. Filmed in the 60 days prior to his sentencing, this was a unique opportunity to paint an intimiate portrait of a man that was deeply torn. Instead, the film gives him far too much leeway. Drier is his own narrator, and seemingly dictates the flow of the film. Good documentaries take a more objective look, and force the subject out of their comfort zone. In Unraveled, that comfort zone is never pushed. Dreier seems remourceful yet prone to excuses and rationalizing, never being conforted to the contrary. This results in a documentary that feels far too safe, and devoid of the sort of insight one would expect. We get plenty of Dreier's rationalizing and humanizing, yet never fully get to the heart of what went wrong, the intimate details of the fraud, nor a profound change in character of Dreier. An overall bland and disappointing effort. 2.5/5 Stars
Jeffrey Meyers
Super Reviewer
I watched Unraveled at the Los Angeles Film Festival 2011 and thought it was a great doc. They managed to capture a unique portrait of Marc Drier's story because you watch the failed attorney turned crook sitting in his lavish 10 million dollar NYC penthouse as he is waiting to be sent to prison for a very long time. It was interesting to see how glamorous his apartment and possessions were at one point in time and then the end result of barren walls and packaged boxes. I watch American Greed and that type of show on a regular basis (which Drier was featured on) so this doc was on my must see list. The animations were well done and added a cool look to the movie. If you have a chance to see this I would definitely recommend...Overall a great doc with an interesting story.
Maximiliano McKenzie
½
Interesting portrayal of a con man who would have been more famous except for Bernie Madoff hitting the fan simultaneously. Listening to him tell how and why he conned hedge-funds out of their money, and his rationalizations, on the eve of his imprisonment is quite enlightening. He was able to delay jail by using his son's bar mitzvah money to pay for guards pending sentencing, so the entire documentary was shot in his luxurious condo over a three month span.
Roy Smith
Unraveled Quotes
There are no approved quotes yet for this movie.