Unveiled
(2005)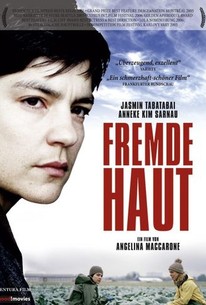 Movie Info
Fariba, prosecuted in Iran because of her love for a women, flees to Germany. But, her application for asylum is turned down. Her desperate prospects are improved by the suicide of her fellow-inmate Siamak: she assumes his identity and using his temporary permit of sojourn, is send to a province village. At first glance her survival seems to be assured, but in the refugee home she is obliged to uphold her male disguise in cramped quarters and a single mistake could blow up her cover. In order to pay for forged documents, she takes an illegal job in a sauerkraut factory, where she meets Anne, who is very solicitous about Siamak's well-being and derives some kind of pleasure from the strange foreigner. While spending more and more time together, they become dangerously close and Anne begins to suspect Fariba's true identity.
Critic Reviews for Unveiled
Audience Reviews for Unveiled
½
Unveiled is a powerful story of survival, prejudice and love that reminds me also of the movie Boys Don't Cry" because of the situation of the lead character. The story is totally realistic and credible, exposing the intolerance of Muslin nations, in this case Iran, with lesbians. The direction of an unknown ( for me) Angelina Maccarone is sensitive, never letting the dramatic situation of Fariba being corny. The performances of Jasmin Tabatabai and Anneke Kim Sarnau are outstanding, and they show great chemistry in a beautiful and sad love story.
Daisy Maduro
Super Reviewer
Well done story of alienation and having to hide one's true nature in order to survive day to day. Jasmin Tabatabai plays a woman fleeing persecution and possible death in her native Iran for loving the wrong person. She adopts the persona of a troubled young man who dies at the detention center where they are being held and tries to make her way in rural Germany. She faces prejudice and hatred even before anyone figures out who she really is. Heartrendingly sad, but a good mirror of society both in Germany and in our own US of A. Highlights the need we all have for affection and approval.
Mark Abell
Super Reviewer
Slow-paced, subtely narrated and very touching film.
Unveiled Quotes
There are no approved quotes yet for this movie.