Vampires vs. Zombies
(2004)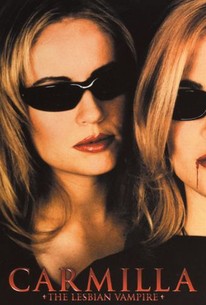 AUDIENCE SCORE
Critic Consensus: No consensus yet.
Vampires vs. Zombies Photos
Movie Info
A plague is sweeping the land, and the only hope for an infected girl with nothing to lose is to join forces with her father and destroy the source of the mysterious disease as filmmaker Vince D'Amato turns genre conventions on their head in this startling and original horror entry. Jenna's quest won't be an easy one, and deception lies around every corner as her and her father agree to provide safe passage for a mysterious woman who is actually Carmilla, the legendary blood-drenched baroness, and the very source of the plague. As Jenna, her father, and Carmilla make their way through a world ravaged by flesh-eating zombies, they soon join forces with a powerful warrior known as The General. A man with both a longtime grudge against Carmilla and the weaponry to ensure that she pays for her crimes against the human race, The General may just be the key to salvation for not only Jenna and her father, but all of humanity as well.
Critic Reviews for Vampires vs. Zombies
All Critics (1) | Fresh (0) | Rotten (1)
A rendition of J. Sheridan Le Fanu's classic vampire story 'Carmilla,' tossed in a wannabe-Tarantino blender with soft-core porn and zombies.

Audience Reviews for Vampires vs. Zombies
This movie got robbed of many oscers in 2004... Best Supporting Actor: The General. The Speed Limits in the movie are some of the highest I have ever seen!
Justin Korabik
Since there are SO MANY zombie movies out there, I have made up a system by which one might grade said zombie movies. 10 points for every second of female nudity. 50 points for full frontal. 1 point for every zombie killed. This adds up quickly. Despite the fact that there are only 2 zombies in this movie, and the actors having all the acting ability of a dead trout, the lesbian vampire sex scene and the ridiculous over-the-top violence definitely make up for it. W for WIN!
Andrew Nichols
Plot, what plot? Also, there isn't any battle between the living dead and the undead. Just a lot of lesbians and bad acting.
vieras esine
Super Reviewer
Vampires vs. Zombies Quotes
There are no approved quotes yet for this movie.
Discussion Forum
Discuss Vampires vs. Zombies on our Movie forum!